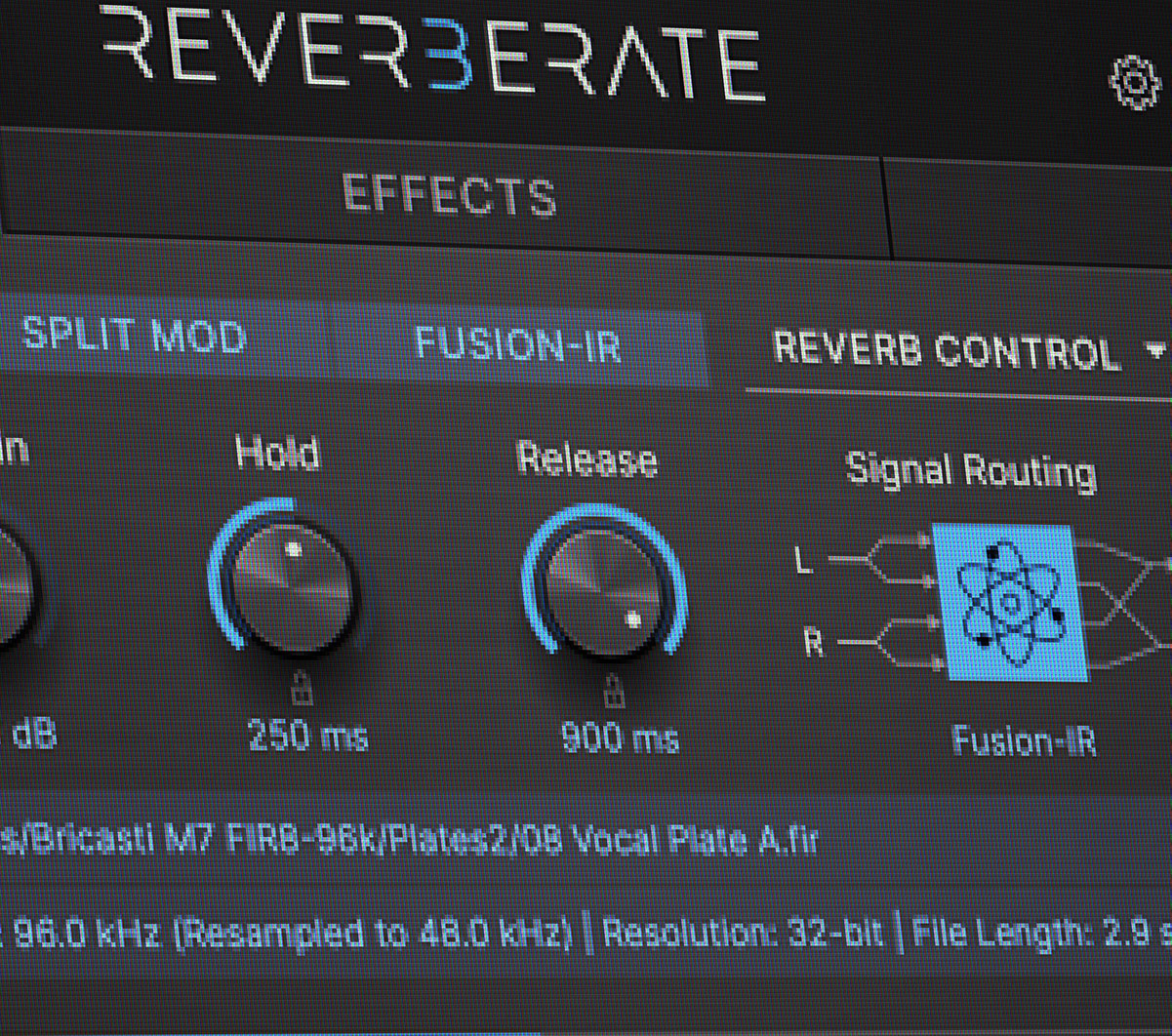 Reverberate 3 is an update of Reverberate 2, and whenever a new major version is released the question quickly arises – what's new? Here's a quick run-down…
New Fusion-IR Packs
Much time and effort went into finding the very best way to sample the classic 480 and 224X reverbs, and I couldn't resist slipping a Classic Cart expansion into the 480 and sampling that too as I know so few people ever used it. Please pick up the FS-24x and FS-48 sample packs once you've installed Reverberate 3 – they're absolutely free and sound fantastic providing an excellent companion to the Bricasti M7 packs that have always been so well received in the past.
New Interface
Reverberate 2's interface needed a redesign as the evils of feature-creep had led it into a design that made it somewhat difficult to navigate and develop. Hopefully you like Sasha's fantastic new graphics and find the overall layout a little easier to use.
You can also more easily show the relevant visualisation component that you would like to see, metering has been improved greatly, and the interface can be scaled to use more or less of your screen. Facilities like the ability to hide the visualisation central region (just click the active central region button in the footer to hide that zone) may be helpful if you'd like the plug-in window in a larger scaling but don't have an especially large display to accommodate it.
There are a wide variety of subtle enhancements in areas such as the browser, folder bookmarking, enhanced lost file management, and comprehensive parameter locking.
Better Fusion-IR Editing
In version 2 Fusion-IR captures allowed you to balance the early and late reverb levels, but now you can also edit the relative timing of them. So remove pre-delay from the late or add it, just like on a hardware capture. It is also the case that some static reverbs benefit from distinct early/late sampling, so the format has been gently modified to allow for this situation.
Improved Split-Mod
The split modulation tools now provide an additional modulation mode which gives you access to a much more subtle but very effective way to gently bring a reverb to life. We will explore this in much more details in a blog post very soon.
Modulation Of True Stereo Simulation
The true stereo simulation tools (for stereo IRs) have been extended to allow modulation on the cross-feed channels which brings them to life without impacting the essential structure and onset characteristics of the sampled reverb. We will also explore this in more detail in a future blog post.
Dispersion Modelling
Physical plate reverbs have a very distinctive whip-like onset due to their dispersion (you can read more about plate reverb dispersion in the blog). Vintage digital plate simulations typically don't include any dispersion, but with Reverberate 3's new dispersion modelling you can simulate this effect with any static or Fusion-IR reverb capture.
Support for VST3
A long-requested feature that needed a lot of work behind the scenes to implement, we're now ready for the day that any host decides that VST2 is too long in the tooth for them and pulls the trigger!
iLok Support
I am sure to a mixed chorus of groans and cheers, iLok is now the licensing model used in all LiquidSonics plug-ins. I find the system very convenient when travelling between studios as I can log into cloud or just pull out a USB device, and am pleased to finally be able to provide a better license resale/transfer/refund model for those that decide they want to sell or surrender their licenses, and finally it can offer multiple concurrent activations which is a real bonus for the musician working with multiple machines or in multiple locations. It also means additional/extended demo periods can be offered which was always a big challenge in the past.
I understand some might prefer a version without iLok given that previous versions were using a license file based system, but I'm very happy with the license management facilities provided by the iLok ecosystem so have no plans to ship a version without them.
Backstage Overhaul
Behind the scenes Reverberate 3 has been moved wholly into the Juce framework. This is a modern cross-platform environment within which to write plug-ins that makes it much easier to keep up to date with modern tools and technologies as they are introduced like high DPI screen resolutions and new plug-in formats. Much of the DSP has been re-written as well so that Apple Silicon can be supported, hopefully some time in 2021.
An area that has not changed is the preset management. In truth I would have liked to overhaul this to bring it in line with many of the other LiquidSonics products, but maintaining session compatibility with saves made in Reverberate 2 came in at a higher priority which unfortunately reduced the latitude to make changes here. Please be aware that although v3 can pick up saves from v2 (i.e. backwards compatible) it was not possible to make saves from v3 compatible with v2 (i.e. forwards compatible) so if you are planning to demo the product and potentially move back to v2 then ensure you have back-ups of old sessions – this is detailed in the manual.
The Price
Reverberate 3 launches in one of the most challenging times artists and musicians have ever been presented with. It would have been so easy to pitch this up at $150 or even $200 because I know this simply a far better product than the one it replaces, but pulling back a touch and bringing more free content to the party just felt like the right thing to do.
Furthermore, for the first time owners of Reverberate Core can upgrade for the same price as Reverberate 1 and 2 users – a move that I hope will enable even more people to benefit from the fantastic advances brought to the field of convolution reverb by Reverberate 3. If you would like to upgrade please check out the upgrades and offers page.