LiquidSonics' Seventh Heaven is dedicated to the reproduction of thirty of the best reverbs from the legendary Bricasti M7 in an incredibly easy to use and extremely powerful native reverb plug-in. Every preset has been meticulously sampled to provide unparalleled flexibility true to the original hardware to produce rich, organic reverbs of up to thirty seconds with full control over the early, late and very low frequency components.
Taking its core technology from Seventh Heaven Professional, the more affordable Seventh Heaven is an indispensable tool for the budget conscious producer whose primary focus is achieving the very highest acoustic quality from a simple and highly versatile native reverb plug-in.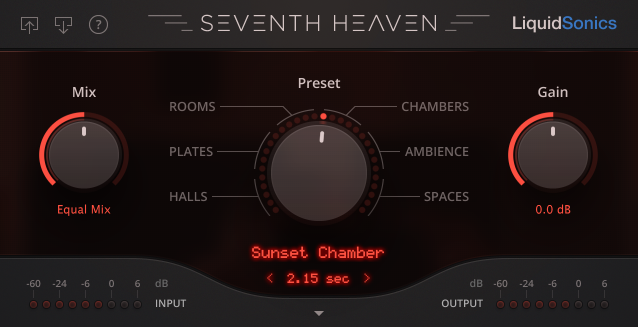 Extraordinary Power and Simplicity
With Seventh Heaven thirty of the Bricasti M7's finest ever reverbs are available at your fingertips. A selection of the best halls, plates, chambers, rooms, spaces and ambiences accessed through a single dial makes it incredibly quick and easy to find a beautiful reverb for any track from drums, to vocals to orchestral ensembles.
Its simplicity belies the power within. The realism and quality achieved by the Fusion-IR processing is breathtaking, and the most crucial parameters of a reverb such as decay times, levels and delays are fully controllable freeing producers from many of the limitations associated with convolution technologies.
The revolutionary capabilities of Seventh Heaven have been achieved though meticulous multi-sampling and characterisation of the Bricasti M7. Thousands of pristine captures are combined intelligently to very closely match the sound of the original hardware. Never before has this level of focus, detail and control been possible in a convolution based product and combines to make Seventh Heaven the ultimate go-to reverb perfect for any mix.
Full Download and 14-Day Demo
All installer files for Seventh Heaven are linked below. The demo and full version installers are identical.
You may begin a functional demo using the iLok code below.
This is an unofficial plug-in produced and distributed by LiquidSonics with the express permission of Bricasti Design Ltd. All Bricasti and M7 sample content and trademarks are copyright Bricasti Design Ltd. All software is copyright LiquidSonics Ltd.
Purchasing and License Information
Available to buy from the LiquidSonics Store
New licenses are priced at $69
Product licensing is via iLok Cloud or dongle with a dual authorisation code delivered by email. An iLok must be purchased separately from an audio retailer if you do not already own one (these are not produced or supplied by LiquidSonics). No option for computer based licensing or Reverberate style license files is provided.
System Requirements, Specifications and Presets