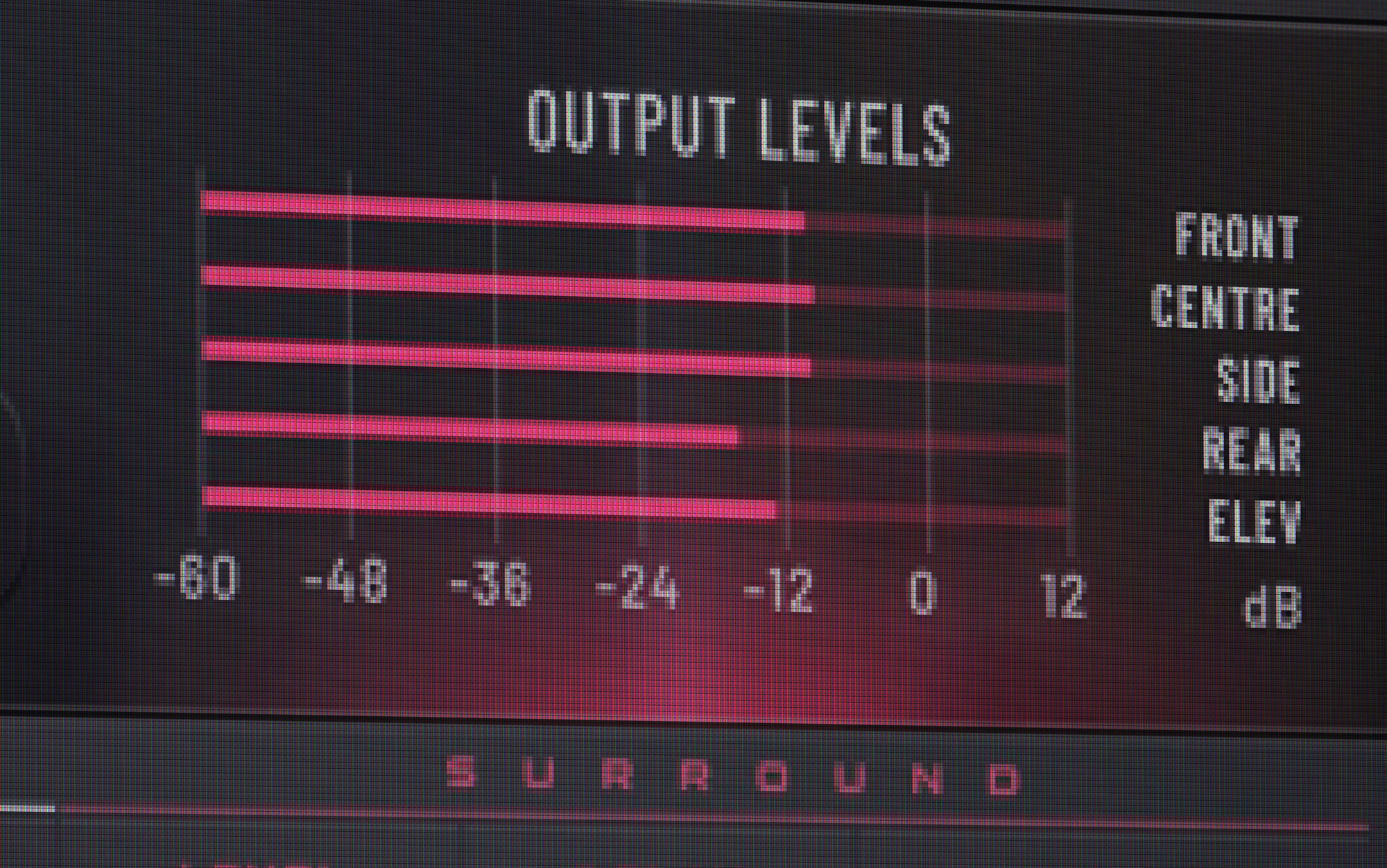 Immersive Plate Reverb
Lustrous Plates Surround is a rich and luxurious contemporary plate reverb with ten distinctive models for use in surround and Atmos mixes up to 9.1.6.
Designed with the multi-channel music mixer in mind, Lustrous Plates Surround is the only plate reverb of its kind.
Nowhere else can you find a fully decorrelated multi-channel plate reverberation algorithm meeting the demands of the contemporary surround and Atmos music mixer.
The reverb excels at phase artefact free fold-down, essential when mixing or remixing for home and headphones-focused Atmos delivery formats. It is ideal whether you are bringing classic tracks featuring plate reverbs into Atmos or working on original surround pieces calling for the distinctive sound of plate reverberation.
The surround edition has all the features of the stereo edition including the even diffusion and beautiful spectral decay of ten real hardware plates, whilst bringing many new enhancements and new features specifically to meet the needs of today's rapid surround production workflows.
"Lustrous Plates Surround has become an absolute go-to. Unreal depth, space and support for the source. It's outrageous and the interface is very conducive to a fast workflow."

Emre Ramazanoglu

Noel Gallagher, Paloma Faith, Kylie Minogue
Ten Rich and Beautiful Plates
Modelled on ten unique plates including a very rare gold foil unit, extensive measurements were taken from each giving a realistic and distinctive reverberant tone to each.
Chrome: A rich, full bodied plate with a classic plate multi-band decay profile
Silver: A light, airy plate with de-emphasised low-mids for enhanced clarity
Steel: Similar in nature to the chrome plate with a reduced low band decay time
Rhodium: Bright and rich, with a very neutral decay profile
Beryllium: A very reflective, lustrous metal inspiring a plate with a bright tone
Corbomite: A very dense and heavy plate
Iridium: Very dense, with a highly emphasised low decay profile
Osmium: A rich reverb capable of very clean, short ambiences
Platinum: Very dense and bright, with rich lows on longer decays
Gold: Simulation of the rare 'gold foil' 240 compact plate reverberator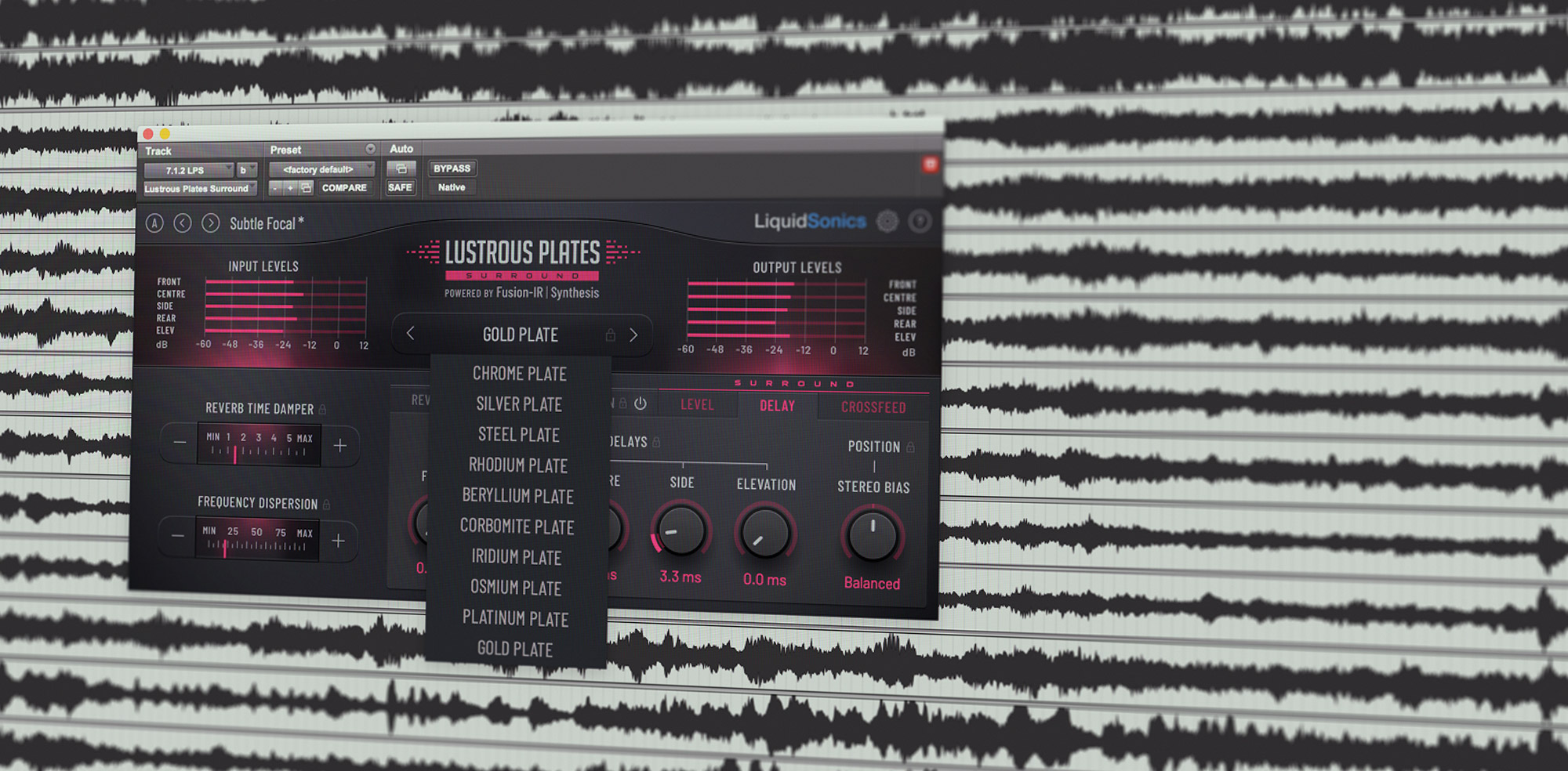 "It sounds great, a spectacular choir reverb."

Simon Franglen

The Bodyguard, Moulin Rouge, Avatar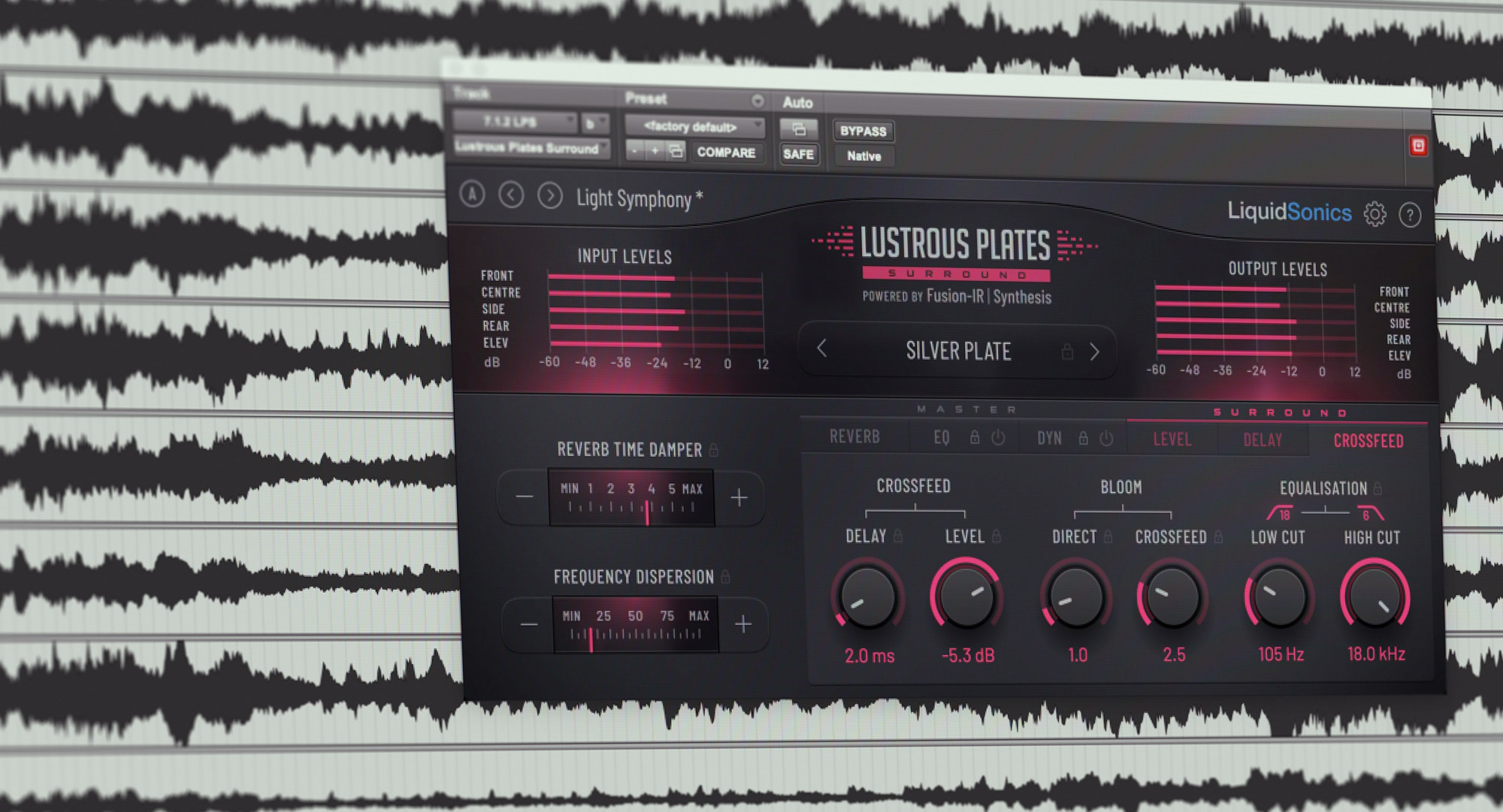 Crossfeed Control
Lustrous Plates Surround provides a level of independent control over the direct and crossfeed signals crucial to achieving great results with surround reverbs.
Bloom, Level and Decay
A plate typically has an immediate onset, but the surround edition provides bloom and delay controls to allow the reverb to spread gently across the surround field. Level and delay allow you to control when and how much of a signal propagates into adjacent surround channels.
Equalisation
Plate reverbs typically have a very robust low end, especially when the decay times are towards the upper end of the range. High and low cut filters with selectable roll-off curves can be used (6, 12, 18 and 24 dB) to allow you to dial in as much low end weight and high end sizzle that your surround mix needs.
"This surround plate absolutely rocks my surround world!"

Andy Bradfield

Snowden, The Great Gatsby, Kick-Ass
Creative Potential
Lustrous Plates Surround builds on the solid foundations of the original stereo edition, enhancing and extending its capabilities in many areas.
Rhythmic Reverberation 
The pre-delay and surround channel delays of the reverb can be set in milliseconds, or click the metronome button to set it relative to the current project tempo to sync the reverb to the beat of the song.
Dispersion
In a real plate frequency dispersion is critical to its sound and occurs due to the choice of materials, tension, mounting factors and more. The amount of simulated dispersion for each plate in Lustrous Plates is all controllable via a single 'frequency dispersion' parameter for quick and powerful results. When combined with the new bloom controls interesting time and frequency delay effects are a cinch.
Stereo Pan And Delay
The delay and level tabs provide the ability to apply a traditional level-based pan as many plates often do not have a rock-solid central image. You can also create interesting pan-delay effects by delaying the left/right channels which can range from a subtle haas effect to dramatic stereo slap delays.
Dynamics
A dynamics module is provided for gate, ducking and compression effects.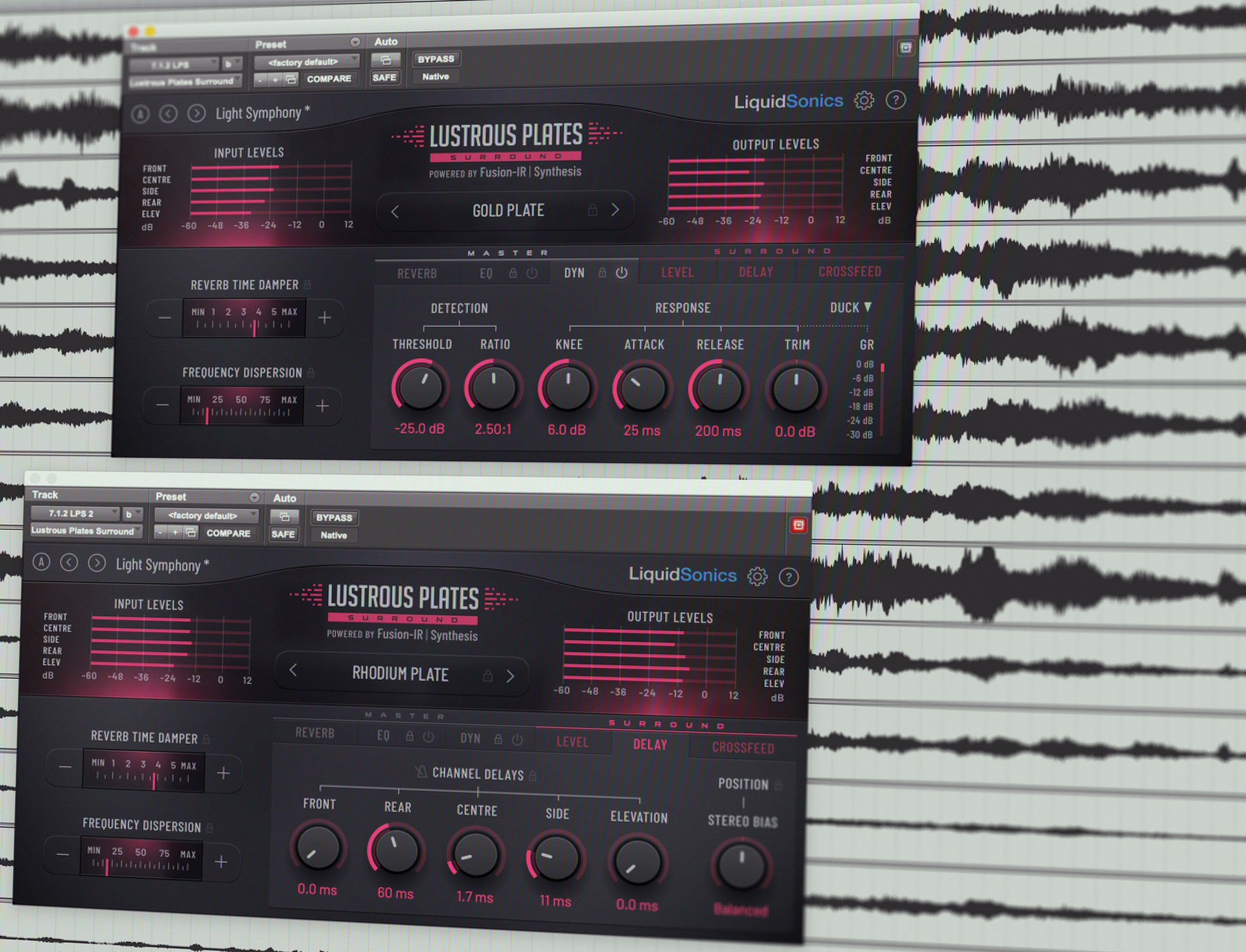 Standard Edition
$99 - Perpetual License
Mono and stereo
10 plate models
Pre-delay with tempo sync
Dispersion modelling
Fusion-IR Modulation
Low and high cut EQ
Low and high shelf EQ
Dynamics module
Parameter locking
47 presets
VU Metering
Surround Edition
$149 - Perpetual License
Mono, stereo, LCR, quad, 5.0 – 5.1.4, 7.0 – 7.1.6, 9.0.4 – 9.1.6
10 plate models
Pre-delay with tempo sync
Dispersion modelling
Fusion-IR and enhanced modulation modes
Low and high cut EQ
Low and high shelf EQ
Dynamics module
Parameter locking
75 presets
Bar and VU Metering
Crossfeed level and delay
Bloom control (direct and crosfeed)
Crossfeed low/high cut EQ
Multi-channel delay (inc tempo sync)
Multi-channel level
Pan delay
Level delay
Optional VLF reverb
Available Free For 14 Days
The Lustrous Plates Surround trial is available for free on macOS and Windows. Just enter the iLok code below in iLok License Manager and install the plug-in:
8344-2293-5686-5987-0130-8697-5214-88
After 14 days a full license is required to continue using the plug-in. 
Buy Now for $149
Audio Examples
Each sample starts off untreated, the reverb is faded in and then back out of the audio example to help the listener get a sense of the reverb at different mix settings.
Purchasing and License Information
Available to buy from the LiquidSonics Store for $149 or click below to add to your basket. An iLok 2/3 dongle, iLok machine activation or iLok Cloud is required.
If you already own a perpetual license for Lustrous Plates you may upgrade for $50 from the LiquidSonics store. You can read more about the upgrade process here.
A surround edition license will also unlock the standard edition.
Additional Information
Lustrous Plates Surround supports DAWs meeting the following specification:
iLok 2, iLok 3, iLok Cloud or iLok machine activation
Windows 7 and above
OS X / macOS 10.9 and above
VST 2.4, VST3, Audio Unit (AUv2) and AAX Native plug-in formats
64-bit DAWs are required (32-bit is not supported)
800 MB hard disk space is required
At least 8 GB of main memory is recommended
A dual core i5 or Apple Silicon processor or above is recommended
Lustrous Plates is an easy to use and flexible reverb featuring:
Ten unique plate models created with TASM

Enhanced surround reverb algorithm
Channel counts from mono up to 7.1.6
Crossfeed filtering and level control
Bloom control
Faithfully reproduced frequency dispersion and damping
Modulated and fully decorrelated true stereo reverb design

Low and high roll-off (

6-24 dB), low and high shelf/bell filters

Width control (mono through to fully decorrelated true-stereo)
Pre-delay (0 to 500 ms or sync to tempo)
Light and dark colour themes
Tool-tip help system
Dynamics module (compressor, ducker, gate)