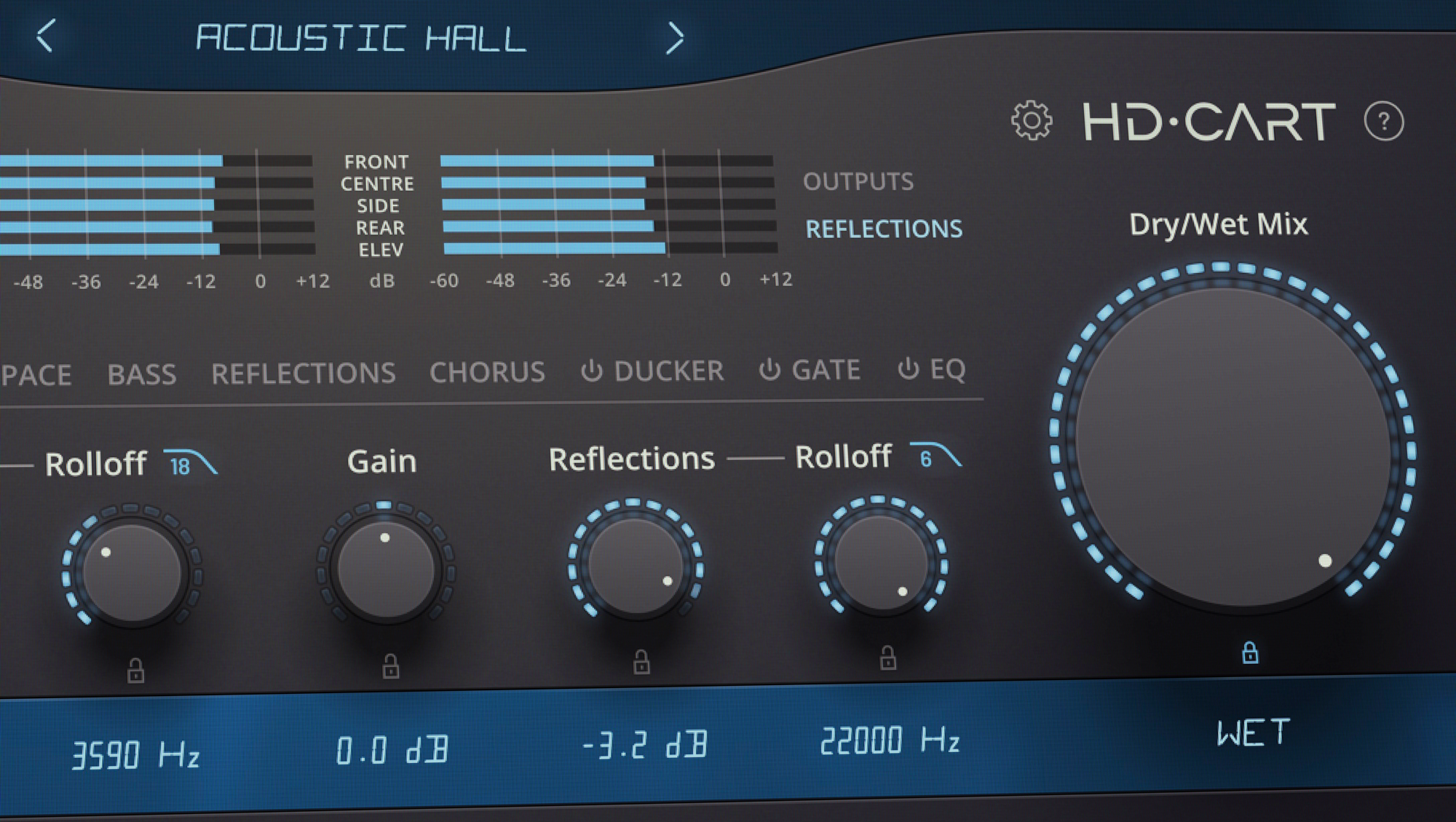 Vintage Digital Reverb
HD Cart is a recreation of the rarest expansion cartridge for a seminal digital reverb – taken to a whole new level! Experience classic digital reverb in surround with the convenience of a modern plug-in.
Originally only available in quad and 5.1, but now upgraded for 7.1 and 9.1.6 for Atmos compatible period-authentic reverbs, HD Cart is the ideal route to heritage spaces and rooms with instantly recognisable feel and vibe when your projects calls for contemporary surround workflows.
HD Cart has a low memory and CPU footprint, alongside a wealth of useful improvements including luscious chorusing, flexible dynamics, classic gating and greatly expanded filtering capabilities, making it an ideal workhorse reverb when heritage spaces are an essential part of the mix.

""HD Cart has beautifully captured that classic reverb sound we all know and love, breathing life into recordings in the most musical way possible. I'm able to use a ton of surround instances without moving the CPU needle. Truly fantastic!"

Scott Michael Smith

Grammy winning mixer: The Revenant, The Handmaid's Tale, Minions: The Rise Of Gru, Moon Knight
A Unique Heritage Reverb
One of the first ever surround algorithms ever to consider the effect of early and late reflections in a quadraphonic field, this pushed the dual-board design of the original hardware to the limit in a way not heard anywhere else.
Included in this recreation are not only the original high density stereo modes, quadraphonic and special 5.0 routing configurations, but further extensions for even higher density stereo and 9.1.6 surround support all while staying true to the original algorithmic and control concepts.
Experience unique early reflections like no other, with spin and wander creating a truly dynamic spaces that come to life with level, filter and timing control for the surround regions.
In surround modes the reverb can be pushed towards the front, left in the centre for highest reflection density, or moved towards the rear of the simulated space.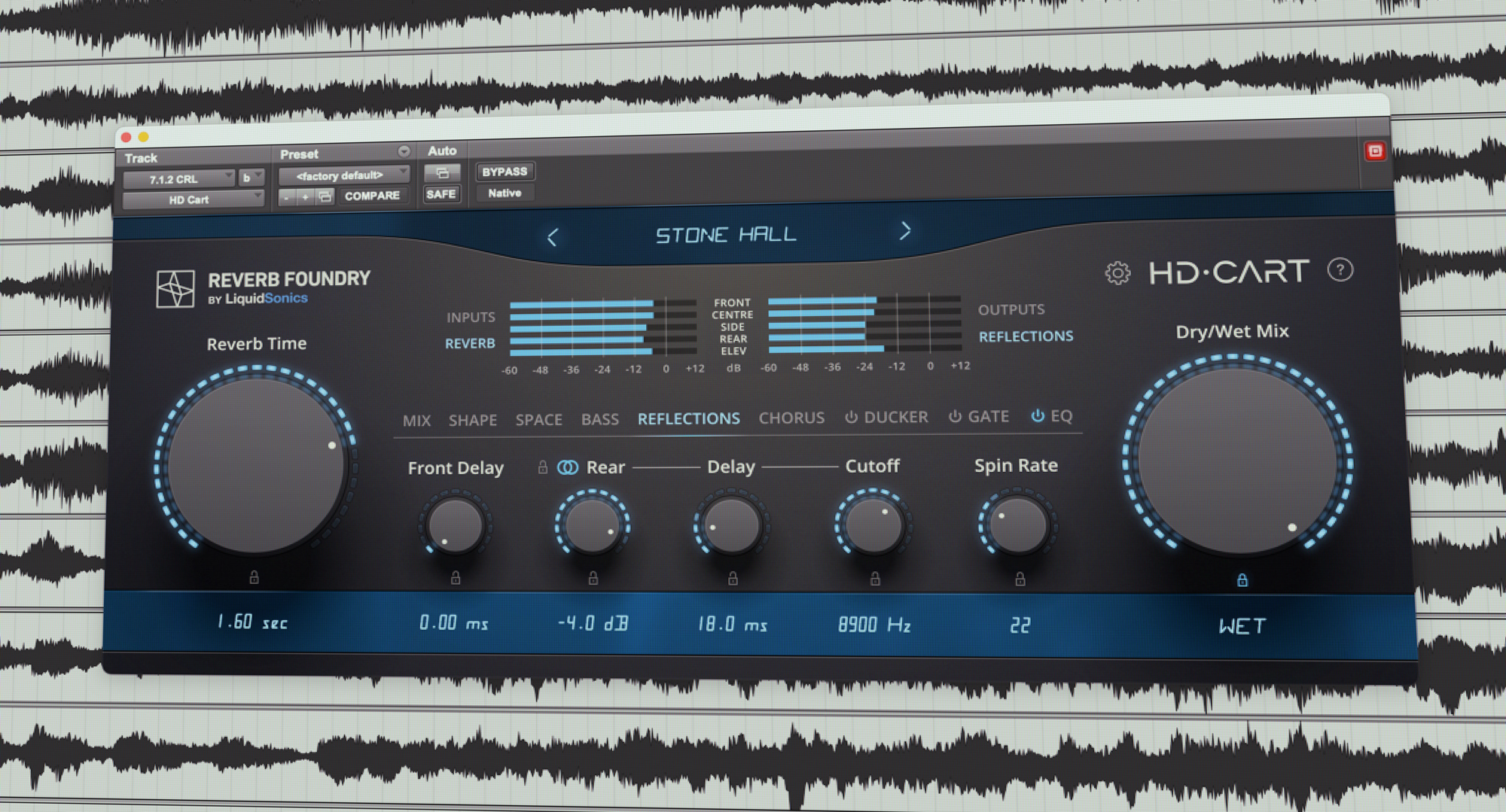 ""The HD Cart verb has incredible personality and depth. I fell in love all over again with the sounds on this - and having it able to run as a surround or Atmos reverb return really is the full package!"

Jason LaRocca

Music Producer and Mixer: Morbius, Dune, Cyberpunk 2077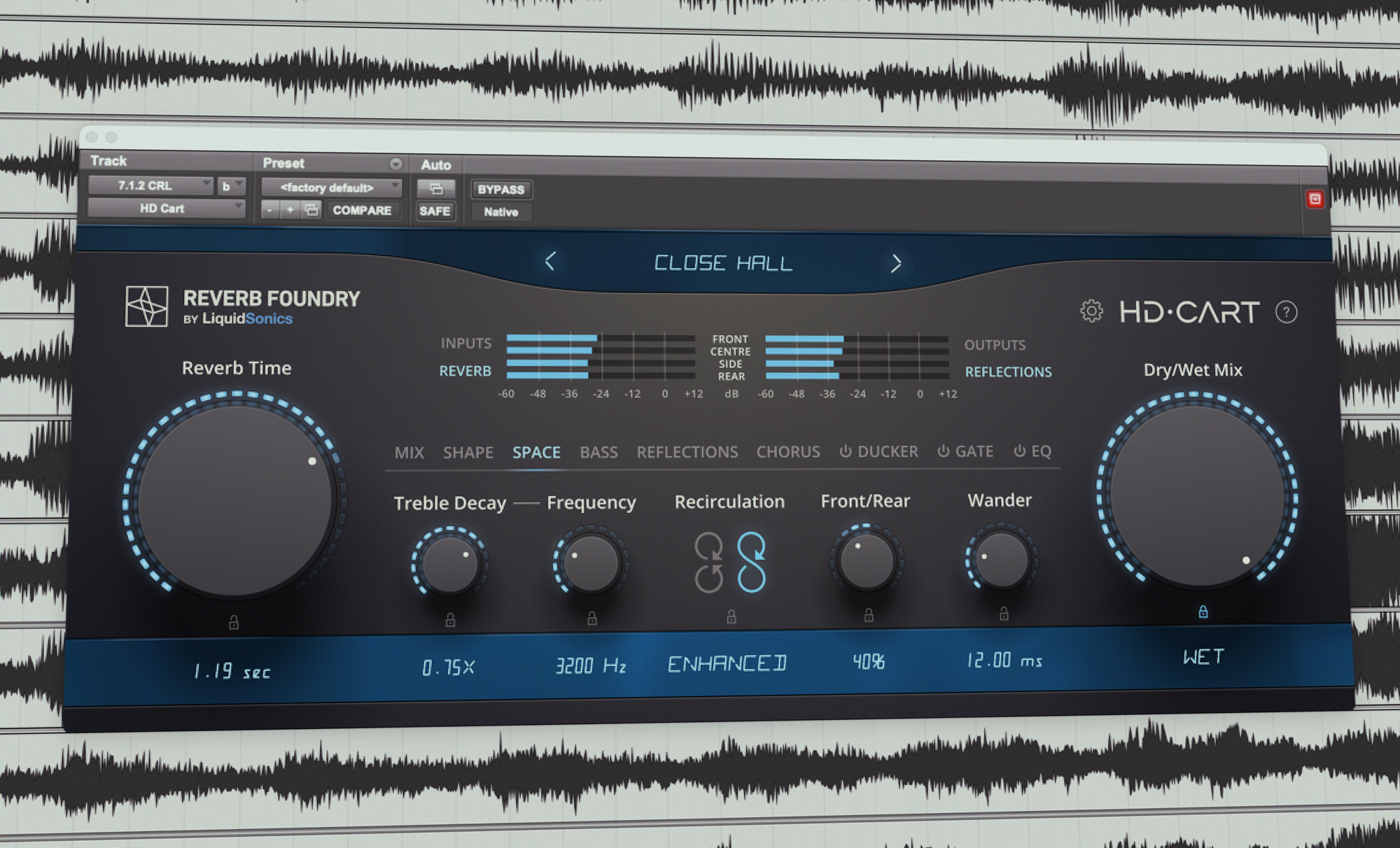 Space Control
The full complement of controls available on the original unit have been recreated in HD Cart, with some areas receiving extensions and improvements.
Spread provides powerful room enveloping control to ensure reverbs give the source the space they require. Size and reverb time allow you to make adjustments to the perceived room size and reverberation length.
Early and late reverb roll-off controls have been extended with modern additions of 12, 18, and 24 dB slopes in addition to the usual 6 dB/oct to allow you to create rooms with bright reflections with much more realistic late reverberation properties than were possible before.
The classic spin and wander effect was meticulously studied and reproduced, and now you can supplement this with independent reflection and reverb chorusing for rich and complex modulation sequences with evolving sonic textures.
Modern plug-in essentials including full parameter locking and pre-delay DAW tempo sync are included.
""HD Cart has very quickly become an indispensable part of my effects toolkit. It works great on everything from punchy percussion to deep ambient effects, all with its own interesting character. All that and being surround-compatible makes it a no-brainer."

Chris Fogel

The Mandalorian, Oppenheimer, Mission: Impossible – Dead Reckoning Part One
Dynamics & EQ
Dynamics 
Ducking a reverb is often used to avoid a reverb swamping the dry signal, allowing the verb to be tucked away until there is space in the mix for it to fill the space between phrases. Often this will improve intelligibility. By ducking only the reverb (not the reflections) one retains the spatialisation effect of the early room without compromising intelligibility with excessive reverb tail fighting with the dry. HD Cart allows you to duck the reverb, reflections, or the combination of the two.
The dynamics module can also be switched into compression mode for treatment of the reflections, reverb, wet or input signal.
Gate
A reverb gate is used to rapidly reduce the level of the reverberated signal when it falls below a threshold and was a staple of 80s production technique on drums / snare, but also has many uses in contemporary production styles.
EQ
The EQ allows you to apply those finishing touches to the mixed reverb, with low, high and mid-band control.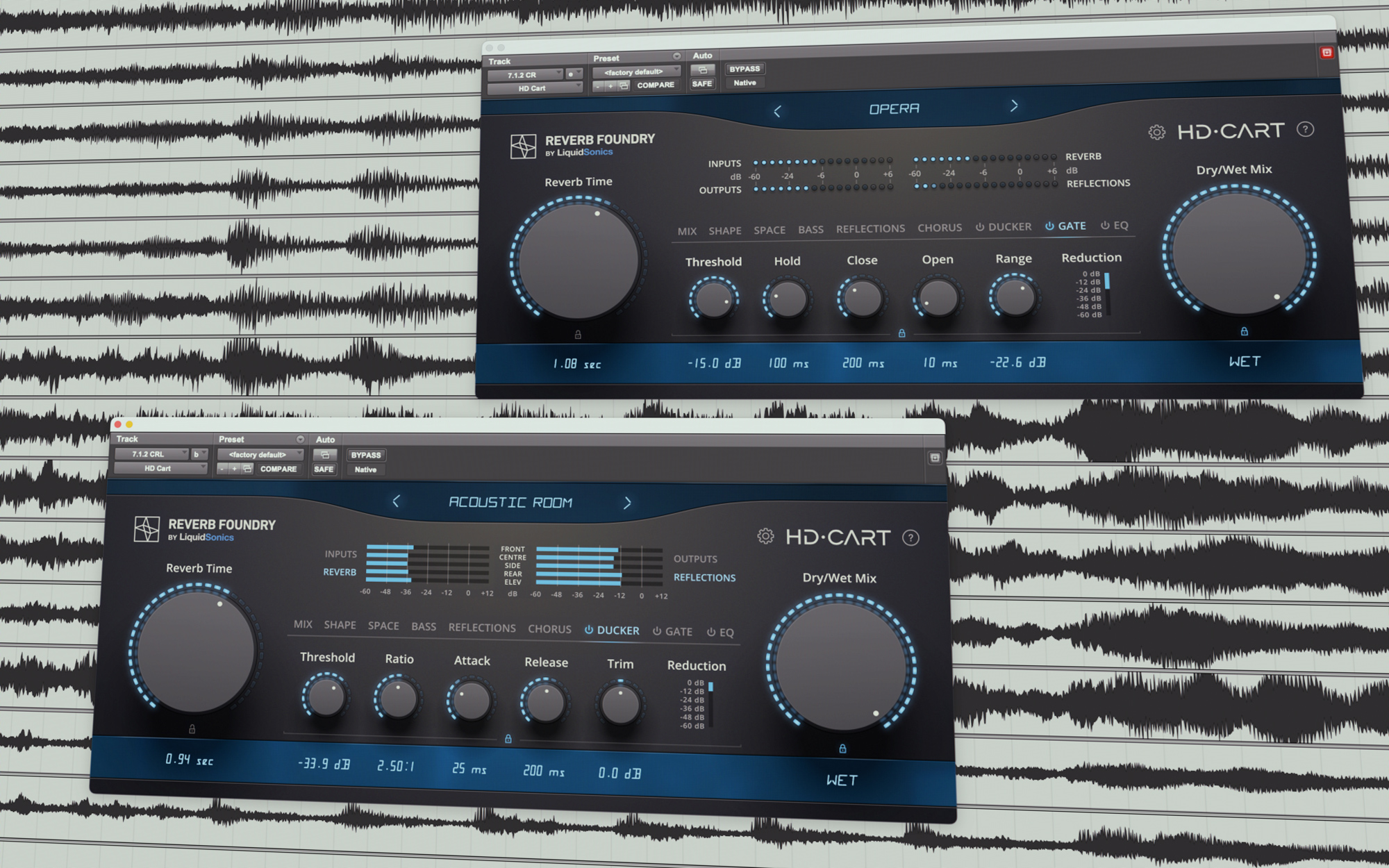 ""HD Cart sounds so great! I used it today and it was fantastic. It took me just a few seconds to find something that was perfect for the song I was mixing."

Romesh Dodangoda

Grammy nominated producer: Bring Me The Horizon, Motorhead, Funeral For A Friend
Classic Reverb In The Modern Era
The original release brought a vintage algorithm into modern DAWs. In 2022 HD Cart received its biggest ever update truly bringing a classic into the modern era. Best of all, this was made available for free to existing owners! The new features include:
Support for modern Atmos workflows
Mono, Stereo, LCR, Quad, 5.0 – 5.1.4, 7.0 – 7.1.6, 9.0.4 – 9.1.6
Over 200 additional presets
New chorus modulation type
Pre-delay DAW tempo sync
Dynamics (ducker, gate and compressor)
New EQ modes and master EQ section
Visual refresh including scalability
Comprehensive parameter locking











""The refined algorithms that combine both engines sound particularly good. HD Cart sits perfectly in a music mix."

Paul White

Sound On Sound (June 2018)
Here are stereo audio examples of instruments used with HD Cart, each example shows the dry version as well as several examples of different presets. Many thanks to Nashville producer Dan Wheeler for making these available to us.
HD Cart is ideal for classical music mixing duties in stereo and Atmos surround, in the video example below Julian David shows you how HD Cart can be used to mix a string quartet recorded in a very dry small room to give it a much greater sense of space.
""A 7.1.2 version of the classic 480 expansion card! This is going straight into my Atmos template session! Initially I'm really impressed by the rooms presets they add immediate energy and musicality."

Al Riley

Tricky, Coldcut, Soul II Soul
Available Free For 14 Days
The HD Cart trial is available for free on macOS and Windows.
Just enter the iLok code below in iLok License Manager and install the plug-in:
0285-8490-5098-6361-5071-4358-0817-30
After 14 days a full license is required to continue using the plug-in. 
Purchasing and License Information
Available to buy from the LiquidSonics Store from $99 or click below to add to your basket. An iLok 2/3 dongle, iLok machine activation or iLok Cloud is required.
Additional Information
HD Cart supports DAWs meeting the following specification:
iLok 2/3, iLok machine activation or iLok Cloud
Windows 7 and above
macOS 10.9 and above
VST 2.4, VST 3, Audio Unit (AUv2), AAX Native
Intel or Apple Silicon processors (native and Rosetta 2 supported)