Lustrous Plates recreates the beautiful tone of seven classic plate reverbs using LiquidSonics' new Temporal Acoustic Spectral Mapping (TASM) technology.
Powered by Fusion-IR | Synthesis, Lustrous Plates is a rich and luxurious contemporary plate design with seven distinctive models. TASM uses a proprietary multi band dynamic capture and analysis method which allows an unprecedented frequency specific profiling of each plate's natural decay, which is then mapped into an advanced reverb synthesis algorithm.
This not only reproduces the beautiful decay of real hardware plates, but it also gains the benefit of having classic algorithmic reverb parameters which allow fine tuning in ways that you've never been able to with any other plate emulation including precise control of frequency dispersion, width and modulation.
Lustrous Plates is available directly from LiquidSonics or as a part of the Slate Digital Everything Bundle.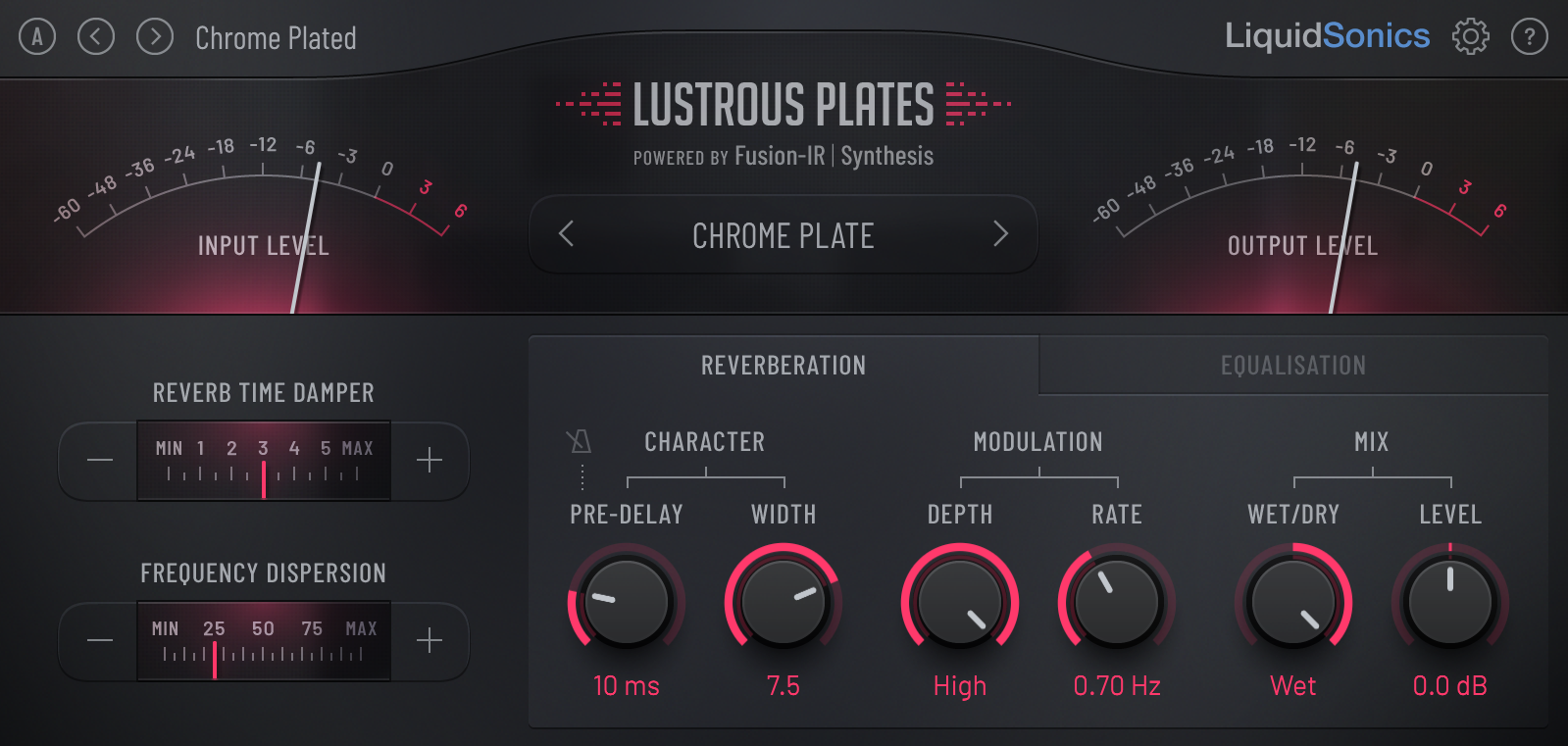 Lustrous Plates comes with a selection of professionally designed presets for a wide range of sources including drums, guitars, vocals and strings so you can quickly find the ideal plate for your track.
See and hear more for yourself from Steven Slate in the Slate Digital NAMM 2019 launch video.
Full Download and 14-Day Demo
The installer files for Lustrous Plates are linked below (these serve as demo and full version installers).
Slate Digital subscribers can get the plug-in through their download manager, or directly from the links below. The installers provided by Slate Digital and LiquidSonics are identical so it does not matter whether your authorisation comes from a perpetual LiquidSonics license or though the Everything Bundle subscription.
Purchasing and License Information
Available to buy from the LiquidSonics Store for $199
Lustrous Plates is also included as a part of the Slate Digital Everything Bundle subscription service.
Perpetual Licenses: Activations are supported via iLok 2/3 (sold separately), iLok Cloud or iLok computer based authorisation; two activations are included. 
Everything Bundle: Activations are supported via iLok 2/3 or iLok Cloud; one activation is provided per subscription.
System Requirements and Specifications
Lustrous Plates supports all major DAWs on Windows and macOS
iLok 2, iLok 3, iLok Cloud or iLok computer based authorisation
Windows 7 and above
OS X / macOS 10.9 and above
VST 2.4, VST3, Audio Unit and AAX Native plug-in formats
64-bit DAWs are recommended (32-bit is supported)
500 MB hard disk space is required
At least 8 GB of main memory is recommended
A dual core i5 processor or above is recommended
Lustrous Plates' capabilities are as follows:
Seven unique plate models created with TASM

Faithfully reproduced frequency dispersion and damping
Modulated and fully decorrelated true stereo reverb design

Roll-off (

6-24 dB), high cut, low and high shelf/bell filters

Width control (mono through to fully decorrelated true-stereo)
Pre-delay (0 to 500 ms or sync to tempo)
Light and dark colour themes
Tool-tip help system
Mono, mono-to-stereo and stereo-to-stereo channel configurations supported