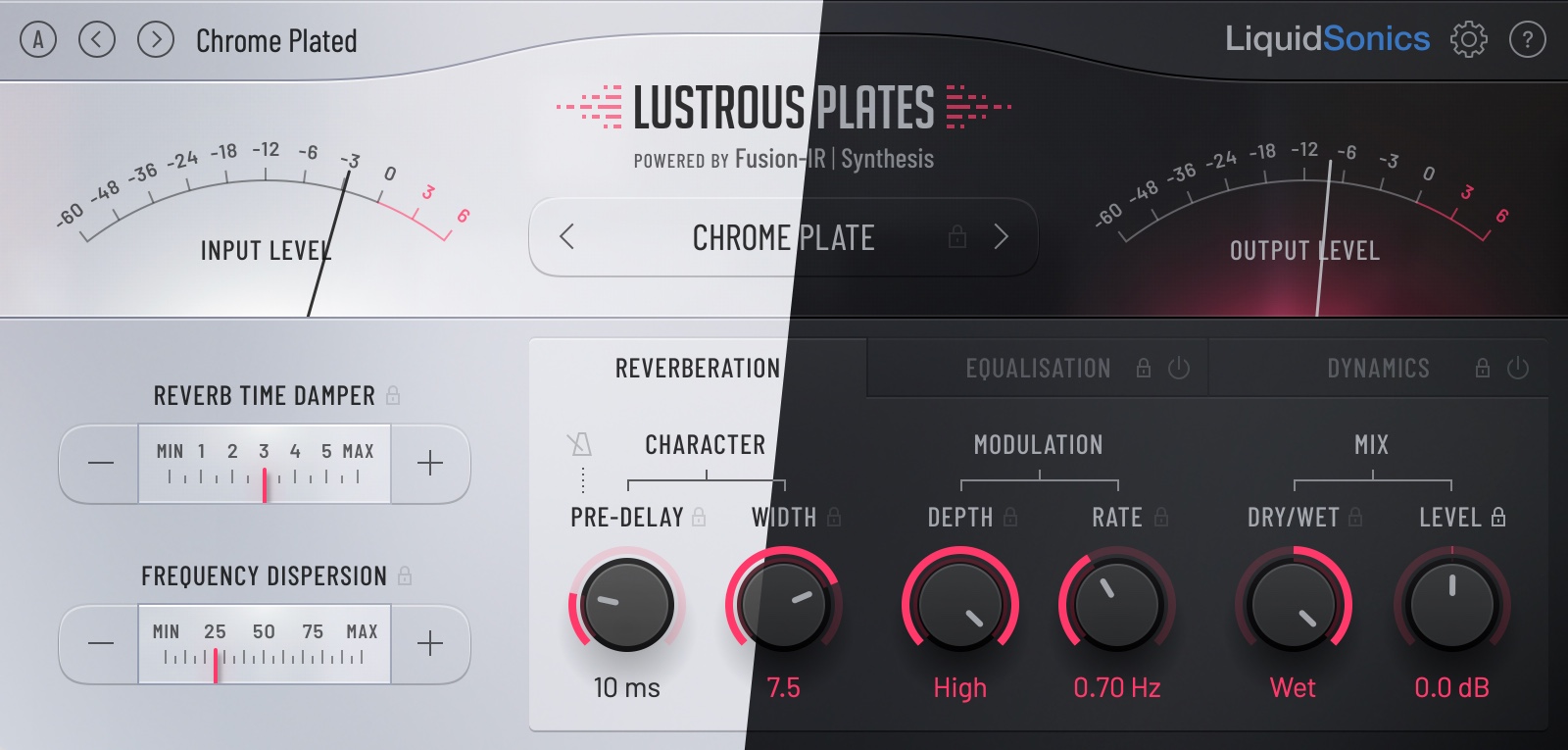 Lustrous Plates recreates the beautiful tone of ten classic plate reverbs using the groundbreaking new Temporal Acoustic Spectral Mapping technology.
Buy Now for $199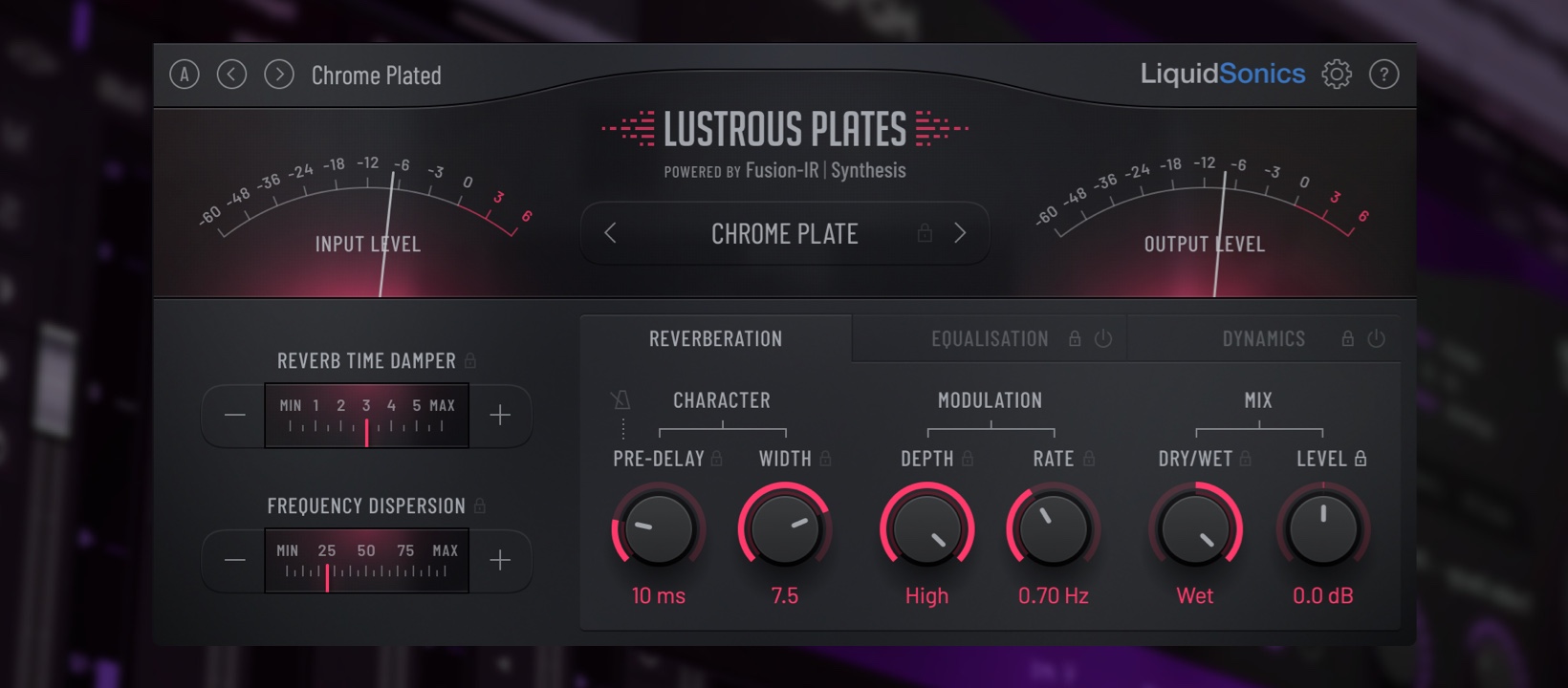 Introducing Lustrous Plates
Lustrous Plates is a rich and luxurious contemporary plate design with ten distinctive models. Temporal Acoustic Spectral Mapping (TASM) uses a proprietary multi band dynamic capture and analysis method which allows an unprecedented frequency specific profiling of each plate's natural decay, which is then mapped into an advanced reverb synthesis algorithm.
This not only reproduces the even diffusion and beautiful spectral decay of real hardware plates, but it also gains the benefit of having classic algorithmic reverb parameters which allow fine tuning in ways that you've never been able to with any other plate emulation including precise control of frequency dispersion, width and modulation.
Lustrous Plates Surround is also available for Atmos reverb up to 9.1.6.
"Recently I've been using Lustrous Plates a lot on my productions; there's a glorious 3D quality that has been captured, it really takes me back to using real plates in the studios of yesteryear."

Rik Simpson

Coldplay, Jay Z
Ten Rich and Beautiful Plates
Each of ten models was designed following extensive measurements taken from real plates, so all have a distinctive and very realistic reverberant tone to them.
Chrome: A rich, full bodied plate with a classic plate multi-band decay profile
Silver: A light, airy plate with de-emphasised low-mids for enhanced clarity
Steel: Similar in nature to the chrome plate with a reduced low band decay time
Rhodium: Bright and rich, with a very neutral decay profile
Beryllium: A very reflective, lustrous metal inspiring a plate with a bright tone
Corbomite: A very dense and heavy plate
Iridium: Very dense, with a highly emphasised low decay profile
Osmium: A rich reverb capable of very clean, short ambiences
Platinum: Very dense and bright, with rich lows on longer decays
Gold: Simulation of the rare 'gold foil' compact plate reverberator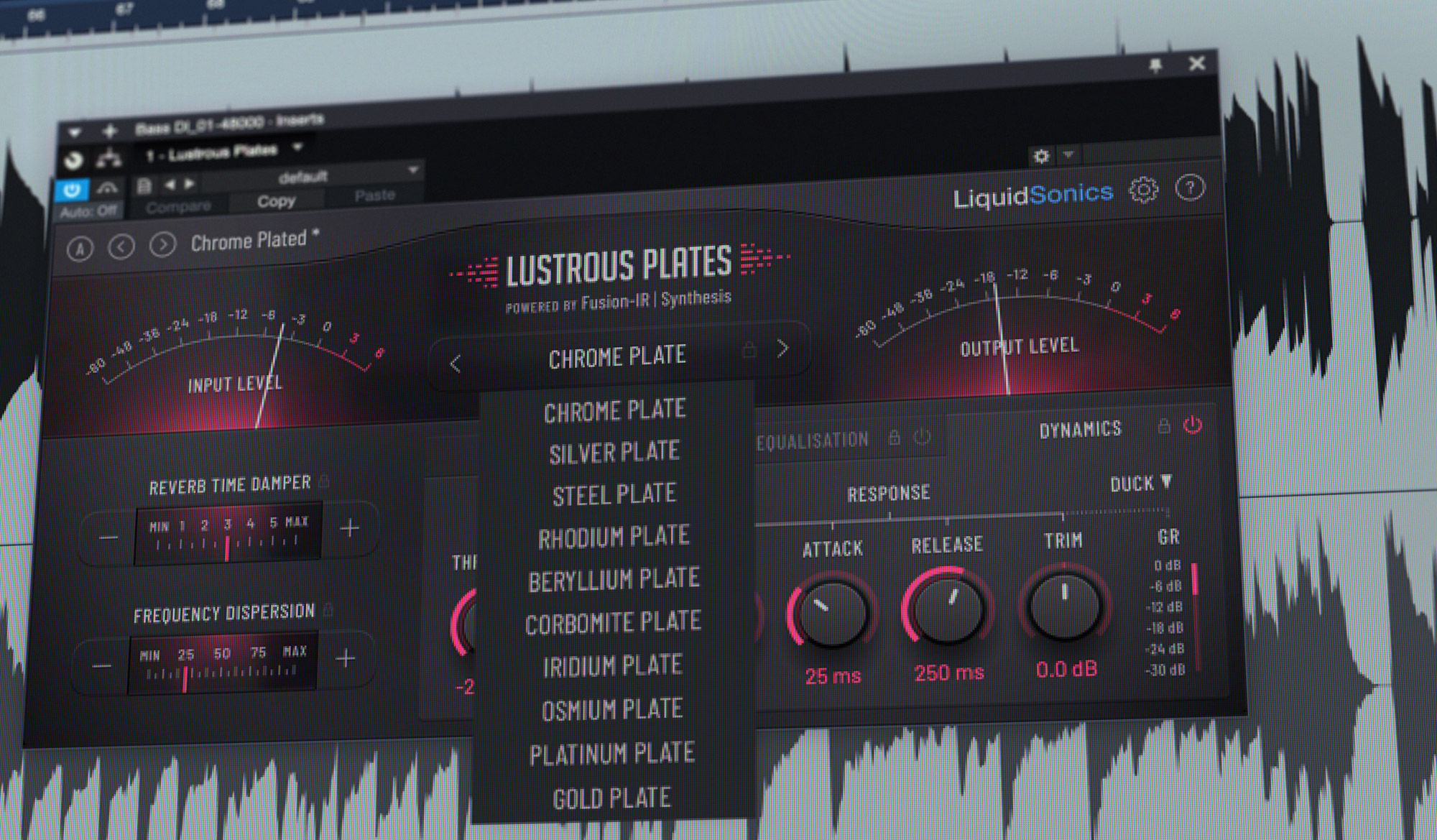 "LiquidSonics Lustrous Plates came on board during the mixing of a live album and it's already firmly planted in my template, replacing 2 or 3 of my old go-to algorithmic plates. It just sounds like a great plate to me… and then there six other ones to choose from! Fantastic tone and fantastic interface. It doesn't get any easier. The TASM technology gives you the absolute best of real plate captures transformed into the power and flexibility of synthesised algorithms."

Rob 'Shrock' Shirakbari

Rumer, Burt Bacharach, Dionne Warwick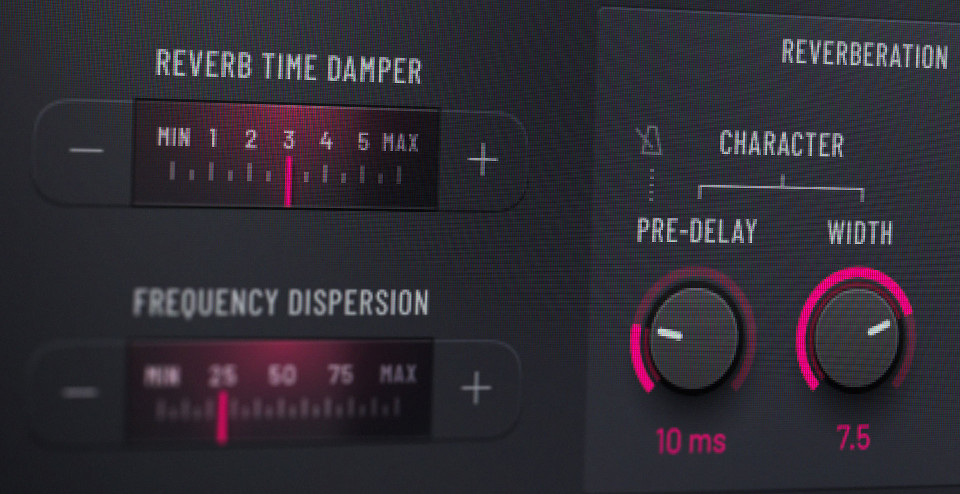 Precisely Modelled
The dispersion of frequencies within a plate reverb plays a critical role in its sound. It is a major reason why a plate reverb sounds so distinctive, in particular with respect to the way it affects transients. A plate's whip like onset is especially audible with percussive material, and is very well suited to guitars and vocals bestowing a unique and very desirable acoustic signature to the reverb.
This happens because sound travels through a metal plate at different speeds depending on its frequency. Similar in effect to a prism spatially splitting light into different colours, a plate temporally disperses sound by delaying different frequencies by different amounts. Low frequencies travel relatively slowly through the metal so are delayed more than the high frequencies.
Simulating the delay's rate of change with frequency is crucial to achieving a convincing plate dispersion tone. In a real plate dispersion is largely determined by its dimensions and pick-up positions, but other factors including the construction material, tension, mounting factors and so on all make a difference. The amount of simulated dispersion for each plate in Lustrous Plates is all controllable via a single 'frequency dispersion' parameter for quick and powerful results.
With Precision Control
Dynamics 
Lustrous Plates features a dynamics module which includes a ducker, gate and compessor.
Rhythmic Reverberation 
The pre-delay of the reverb can be set in milliseconds, or click the metronome button to set it relative to the current project tempo to sync the reverb to the beat of the song.
A Unique Width Control
The sense of space generated by Lustrous Plates is controlled as much by its width as by its length, and can be set from mono right up to a fully decorrelated true stereo spaces (without phase or mono-compatibility concerns) giving a high degree of control over how the reverb sits within the mix.
Modulated Reverb
Lustrous Plate's Fusion-IR Synthesis engine is capable of fully modulating its reverb in a very natural, organic manner for rich and lively plate reverb. It can also be completely disabled to model the rigid plates found in nature.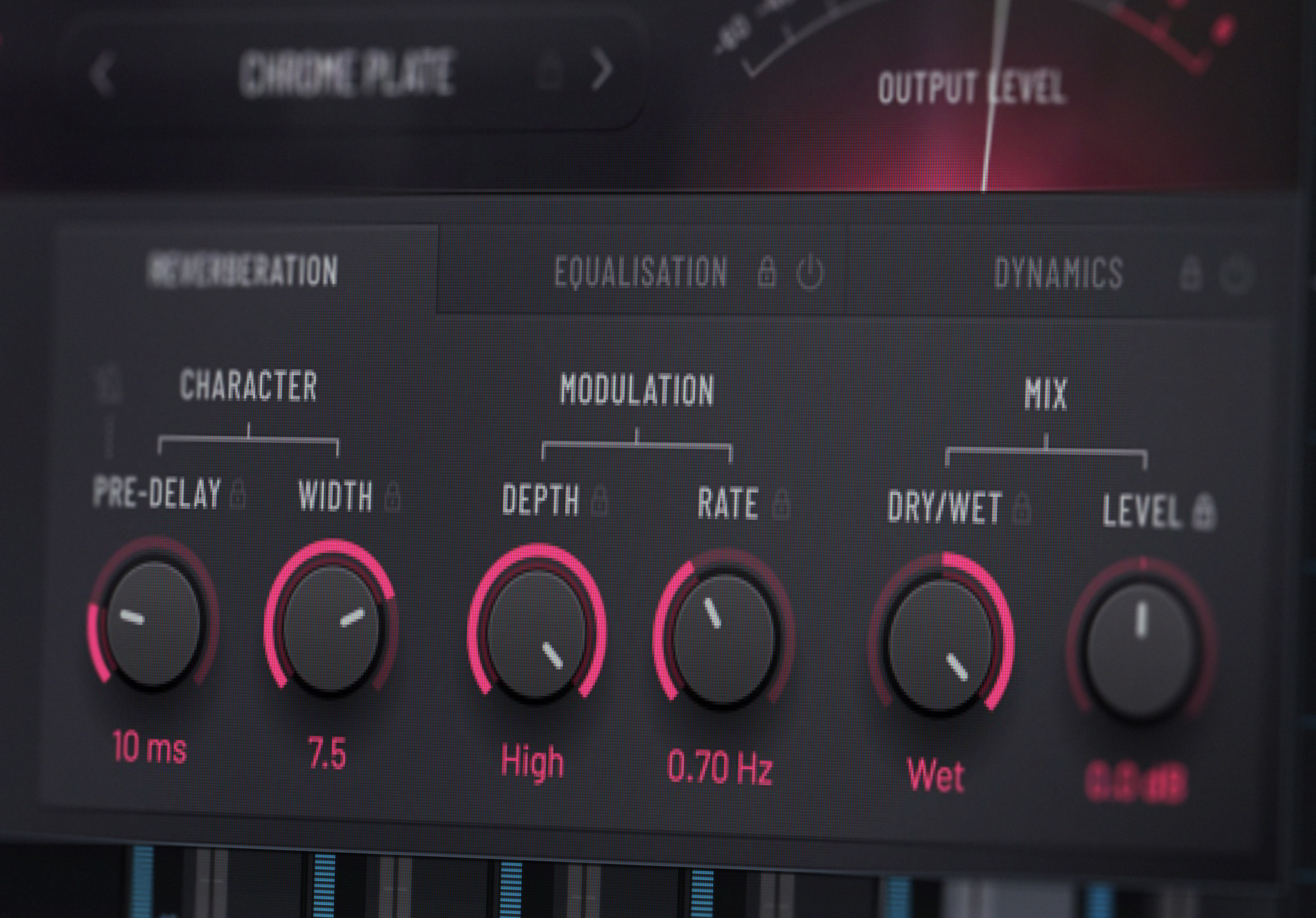 Available Free For 14 Days
The Lustrous Plates trial is available for free on macOS and Windows. Just enter the iLok code below in iLok License Manager and install the plug-in:
1211-9044-5162-3365-6251-5462-6104-24
After 14 days a full license is required to continue using the plug-in. 
Buy Now for $199
Audio Examples
Each sample starts off untreated, the reverb is faded in and then back out of the audio example to help the listener get a sense of the reverb at different mix settings.
Purchasing and License Information
Available to buy from the LiquidSonics Store for $199 or click below to add to your basket. An iLok 2/3 dongle, iLok machine activation or iLok Cloud is required.
Additional Information
Lustrous Plates supports DAWs meeting the following specification:
iLok 2/3,

iLok machine activation

or iLok Cloud
Windows 7 and above
OS X / macOS 10.9 and above
VST 2.4, VST3, Audio Unit (AUv2) and AAX Native plug-in formats
64-bit DAWs are recommended (32-bit is supported)
500 MB hard disk space is required
At least 8 GB of main memory is recommended
A dual core i5 or Apple Silicon processor or above is recommended
Lustrous Plates is an easy to use and flexible reverb featuring:
Ten unique plate models created with TASM

Faithfully reproduced frequency dispersion and damping
Modulated and fully decorrelated true stereo reverb design

Roll-off (

6-24 dB), high cut, low and high shelf/bell filters

Width control (mono through to fully decorrelated true-stereo)
Pre-delay (0 to 500 ms or sync to tempo)
Light and dark colour themes
Tool-tip help system
Mono, mono-to-stereo and stereo-to-stereo channel support
Dynamics module (compressor, ducker, gate)