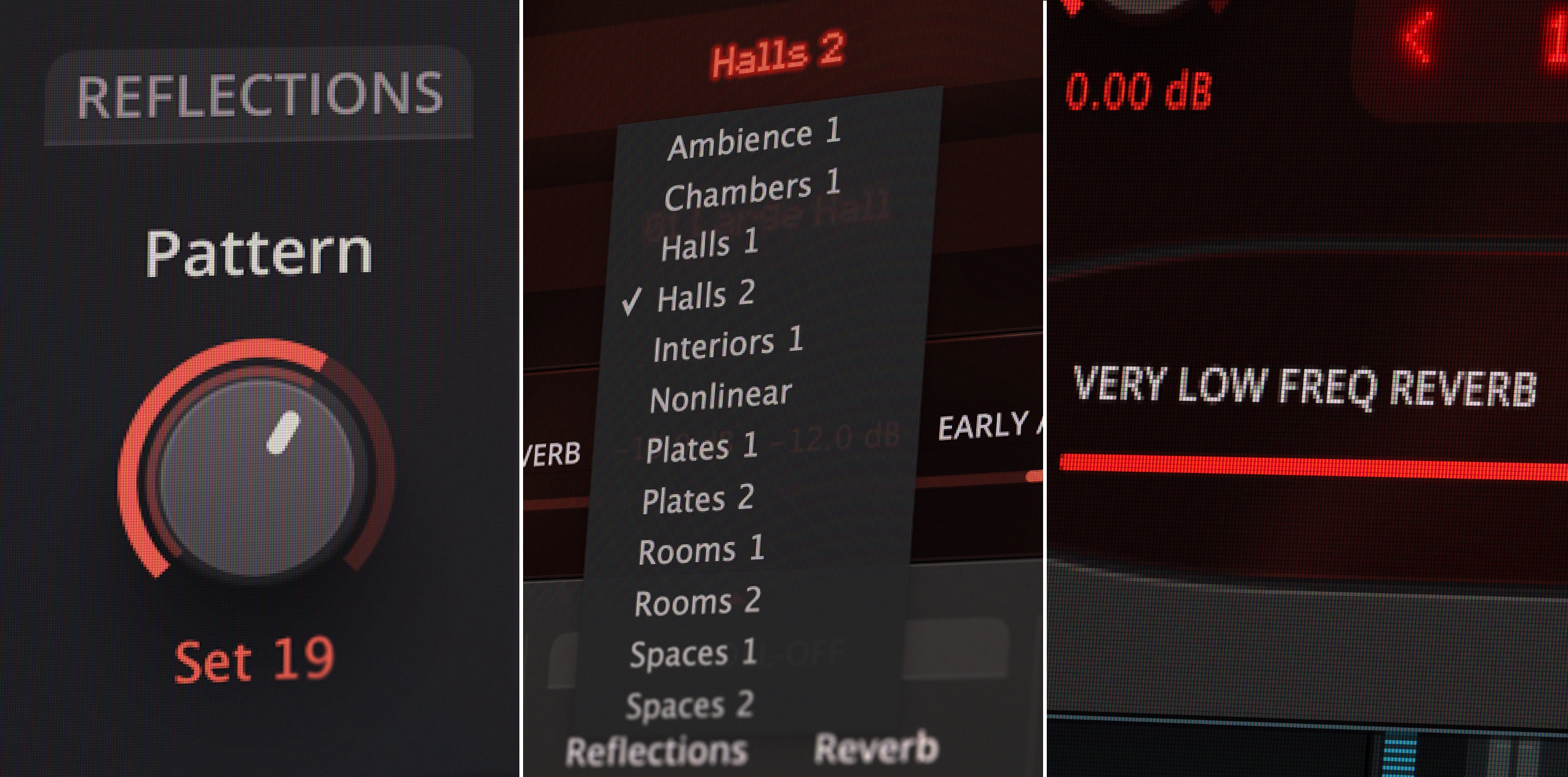 Mastering a reverb always takes time, but getting up to speed with the finer details of Seventh Heaven Professional is easier than you might think. If you've never owned or even used the original hardware masterpiece there are a few little tips, tricks and pieces of know-how that we can share to help get you up to speed a little faster…
Tip 1 – Reflecting on Reflections
The Bricasti M7's reflections are pure, transparent and realistic. Each of the 32 patterns are available in Seventh Heaven Professional so you have full freedom to switch and filter them as you need.
It's worth knowing the difference between the patterns to get the most out of the plug-in, so here's your cheat-sheet!
The patterns grouped into sets: 0-9, 10-19, 20-25 and 26-31.
The first subset 0-9 sound the closest, the last subset 26-31 sound most distant. So for tight spaces you'll generally want something from the first set, and for large spaces with a greater distance between the source and listener pick something from the upper range.
Diving deeper, within each subset the reflectivity of the environment increases – so 9/19/25/31 are more reflective spaces than 0/10/20/26.
Tip 2 – It's All About The Bass
The Bricasti M7's Very Low Frequency parameter controls the level of a dedicated low-end reverb engine. It's truly one of the secrets to its success.
This doesn't just inject a bass-boosted signal into the reverb, it's actually a separate processor with a decay time tuned to give wonderful body and depth to small rooms without overwhelming larger spaces. The lows are a little longer than the main reverb time for small rooms providing a solid and realistic foundation, but back off considerably with very large spaces so they don't rumble on uncontrollably like thunder.
It's so important that extra special attention was paid to it and full control is a feature of both editions of Seventh Heaven. Whichever edition you have you'll get all the workflow benefits of this critical control in a fantastic native reproduction that is second to none.
So feel free to experiment with those lows. They're going to behave a little differently than reverb bass boost facilities normally do, so although you might have learnt to be a little bit cautious with this kind of control in the past it's worth bearing in mind that there is a big difference here.
Tip 3 – Picking Perfect Presets
Have you ever wondered why there are two banks for most preset categories in Seventh Heaven Professional such as "Halls 1" vs "Halls 2"? It's all to do with the style of the reverbs in each.
The Bricasti M7 has two major reverb algorithms known as V1 and V2, and a bonus nonlinear mode inspired by the classic RMX16 non-lin.
The V1 algorithm is very realistic presenting the sophisticated contemporary room and space simulations that the M7 is best known for. The V2 is a brighter and more lively nod to the classics of bygone eras like the 480 with shallower filters and much more energetic modulation.
Although you can't manually select the algorithm mode on the M7 it's easy to know which base algorithm you're using – all banks with a 1 suffix such as "Halls 1" are a V1 algorithm derived preset, and those with a 2 use the V2 algorithm.
The standard edition of Seventh Heaven has a curated selection of thirty of the most well-loved V1 presets, whereas Seventh Heaven Professional includes a capture for every V1, V2 and nonlin preset on the hardware using the naming scheme established by the original. So it's simple to pick the perfect preset in no time at all.
Try It Out For Yourself
If you'd like to experience the incredible reverbs available in Seventh Heaven and Seventh Heaven Professional the best way is with a 14-day trial. Just head to our demos page for a code to drop into your iLok license manager then pick up an installer from the downloads page.
Existing customer can use their loyalty discounts for some incredible stackable savings.