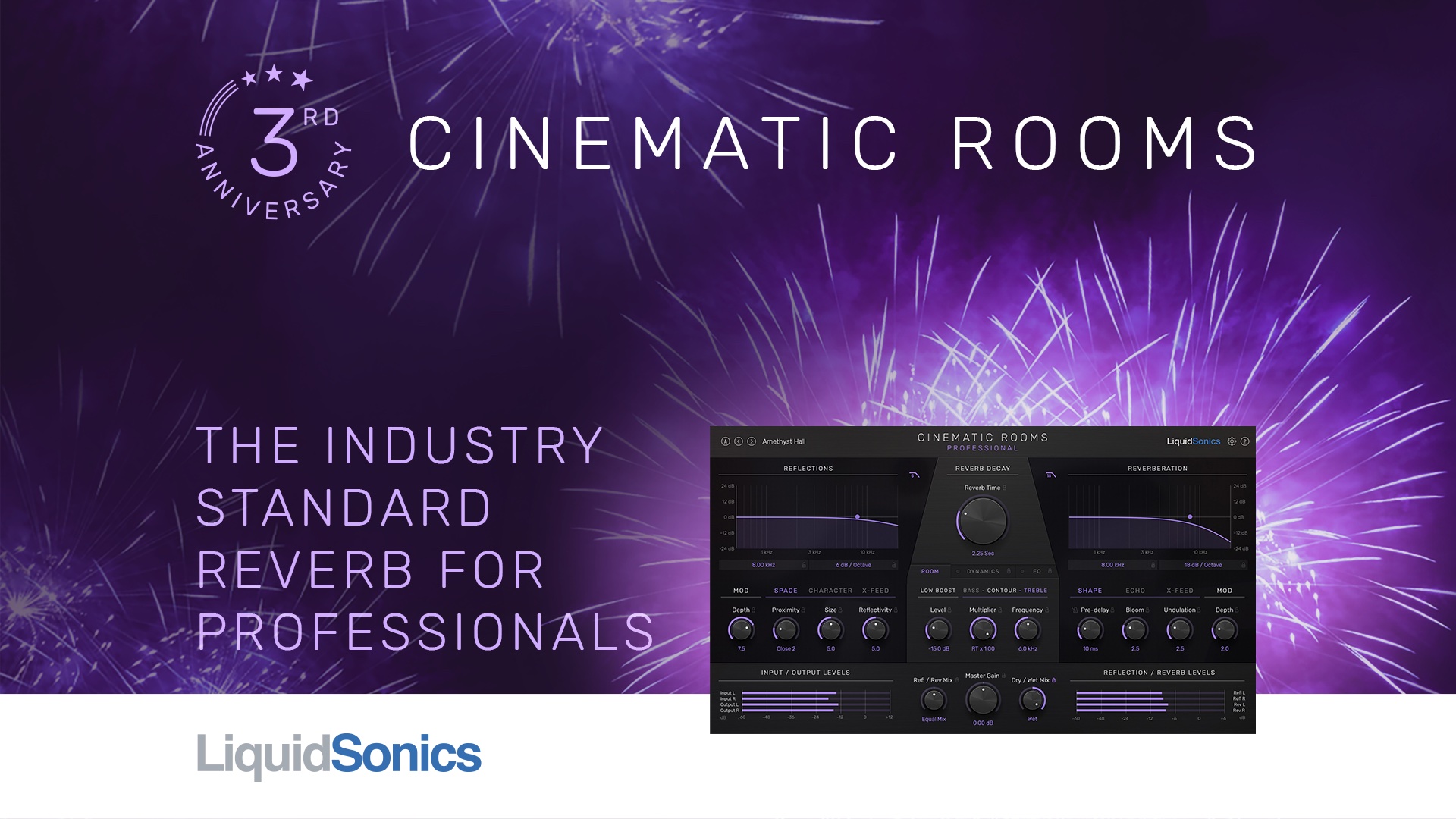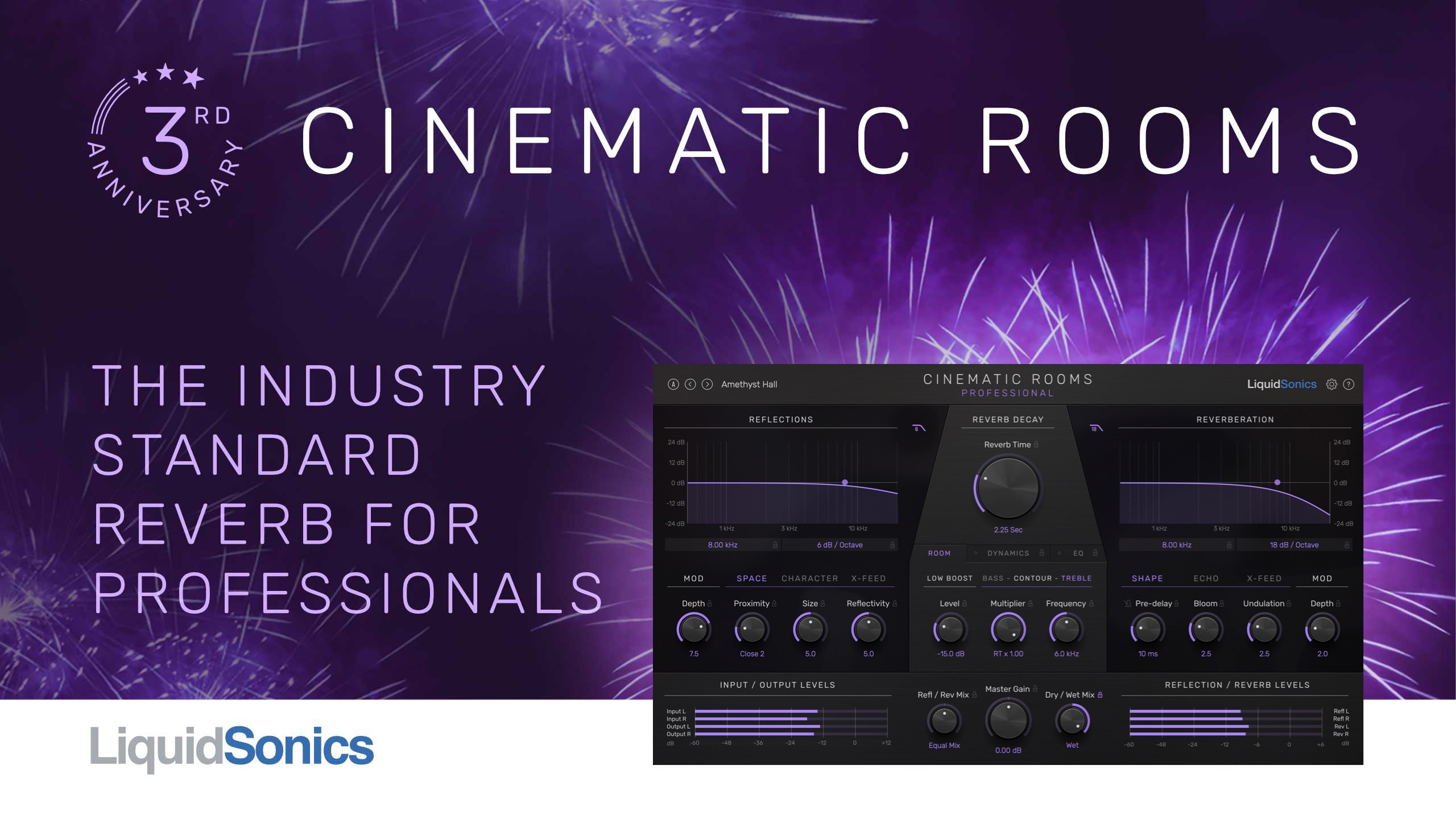 Several years ago, we were challenged by industry-leading composers, mixers and post-production engineers to create something special for those working in modern surround formats such as 7.1.6 and Atmos. Among their wish list, they called for…
A room reverb with best-in-class sound;
Innovative creative tools for use in complex surround mixes;
Support for Atmos and contemporary surround formats;
Simple and intuitive enough for lightning-fast workflows.
We worked with some of the best in the business – including Alan Meyerson, Marti Humphrey, Steve Genewick, Scott Michael Smith, and many more to make sure we ticked all the right boxes.
The result was Cinematic Rooms, a reverb dedicated to the intense acoustic demands of surround room simulation. Deep yet accessible, advanced surround workflow tools allow you to design intricate acoustic spaces of incredible purity with simplicity. Available in two editions (professional and standard) both support channel formats from stereo up to 9.1.6 for use with the latest Atmos workflows.
We've been catching up with some of the artists that helped shape Cinematic Rooms into the reverb that thousands of professionals now use daily. Special mention goes to Marti Humphrey, without his wisdom the plug-in truly would not be what it is today.
"I just want to congratulate you on three years of having Cinematic Rooms out in the world. It's a fantastic reverb. I also want to thank you for the opportunity to have been on the foundation of it, and to give you my input on it. Years ago when we were doing beta testing, I told you I was looking for rooms without the sound of a room. And I think that's where Cinematic Rooms excels. It's perfect for dialogue. It gives us space, and I just think it's an excellent rock solid plugin and does an amazing job at Atmos. So Matt, thank you very much and congratulations. Looking forward to working with you and years to come.

Marti D. Humphrey

Owner and CEO of "The Dub Stage", Burbank, California
""In the matter of six months of just like creeping in and learning how to use it, Cinematic Rooms went from just a little bit of 'oh, I'll put it here and there', to being on every single part of my mix in every single template I have as part of my daily use."

Alvin Wee

Mixer & Producer – Encanto, Top Gun: Maverick
""Cinematic Rooms really has been a staple in my effects template since I got it. The sound is absolutely gorgeous and I love how tweakable it is. I use it on anything from small, realistic rooms to massive blooming halls and anything in between. It's absolutely my go-to."

Jonas Westling

Grammy Nominated Mix & Recording Engineer – Lady Gaga, Paul McCartney
Of course, we can't forget the incredible response from the press, including Sound on Sound who said, "Cinematic Rooms is a hugely powerful and great-sounding algorithmic reverb for any sort of mixing, music included. Sound quality is straight out of the top drawer, and what's really noticeable in use is the attention that's been paid to getting the early reflections right."
Artist Presets
To celebrate the third anniversary of our flagship plug-in we've released a free update for Cinematic Rooms Professional featuring over 100 new presets from top music and post production professionals including Alvin Wee, Paul Godfrey, Mike Exeter, Dom Morley, Dave Eringa and more! If you're an existing Cinematic Rooms Professional user, head to the LiquidSonics Download Page now to update your software.
If you'd like to hear some in action check out Production Expert's recent article where Luke picks his favourites.
Prize Draw
To celebrate Cinematic Rooms' anniversary, we hosted a prize draw between 1st and 15th June with three copies of Cinematic Rooms and three copies of Cinematic Rooms Professional up for grabs. The prize draw is now closed and the winners randomly selected.
The winners of Cinematic Rooms Pro are:
Sadao Warashi from Japan
Artis Lusis from Latvia
Todd Kitchen from the USA
The runners up receiving a standard edition of Cinematic Rooms are:
Mark Broughton from England
Mats Nermark from Sweden
Emre Ozer from Türkiye
Congratulations to all the winners and thanks to everybody that entered the draw.