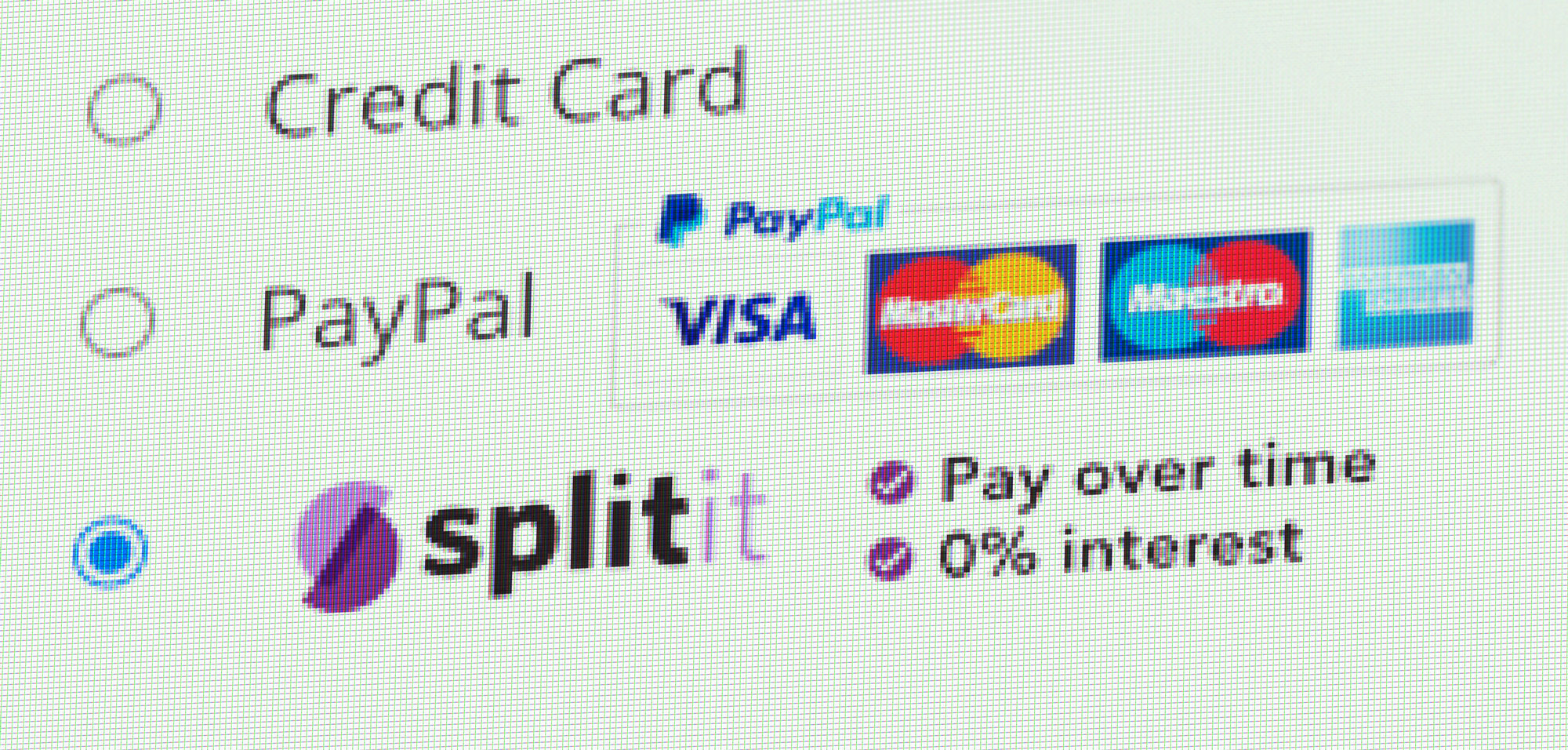 Pay Monthly – Interest Free
The standard edition of Seventh Heaven and Reverberate 3 are very competitively priced to try and ensure some fantastic LiquidSonics reverbs are accessible to everybody, but many people have told me how they would love to get a copy of Cinematic Rooms Professional or Seventh Heaven Professional but can't just pull that much cash from their monthly budget in a single payment.
So I've been looking for ways to help people spread the expense and make it more affordable for them without it costing more or making big changes like moving into subscriptions as I still feel perpetual licenses are still the best way to provide access to LiquidSonics reverbs. That's where Splitit comes in – the service allows you to split the cost of a purchase of perpetual licenses into interest-free payments.
How It Works
Splitit still requires a credit card, but instead of making a single charge it makes multiple charges on to the card monthly with a gradually reducing 'hold' over the remaining instalment amounts. The hold is simply a reserved amount that reduces the total that can be spent on the card, but is not actually a charge so does not attract interest as it has not been paid to the seller yet. There are no credit checks as the instalment holds provide all the cover everybody needs. It allows you to make better use of the credit you already have without extending any new lines of credit.
On a personal level the fact that it makes it cheaper to use the credit your card provider already gives access to was an important factor for me. I didn't want to be helping people to take out new loans for software reverbs. Even seeing people paying interest on software bought on a credit card makes me feel uncomfortable, and this helps you to avoid it.
Splitit supports Mastercard and Visa credit cards. Other credit cards and debit cards cannot be used with Splitit.
More details about how it works are available here.
If you make a payment in store and choose Splitit instead of PayPal or Stripe you will receive your license from LiquidSonics as soon as the first instalment has been billed (which will typically happen just as quickly as if you had made a regular card payment for the full amount) so you're not waiting around for your reverbs.
Payment Options
The instalment options available to you are 2, 4 or 6 months on sales between $49 and $1499.
For example, you could pick up a copy of Cinematic Rooms Professional priced at $399 and pay over 6 instalments of $66.50. It means LiquidSonics waits a little longer for the full amount to be paid while you settle the total amount over time. Of course somebody is making some money here – LiquidSonics takes a little less overall due to Splitit's commission on the sale.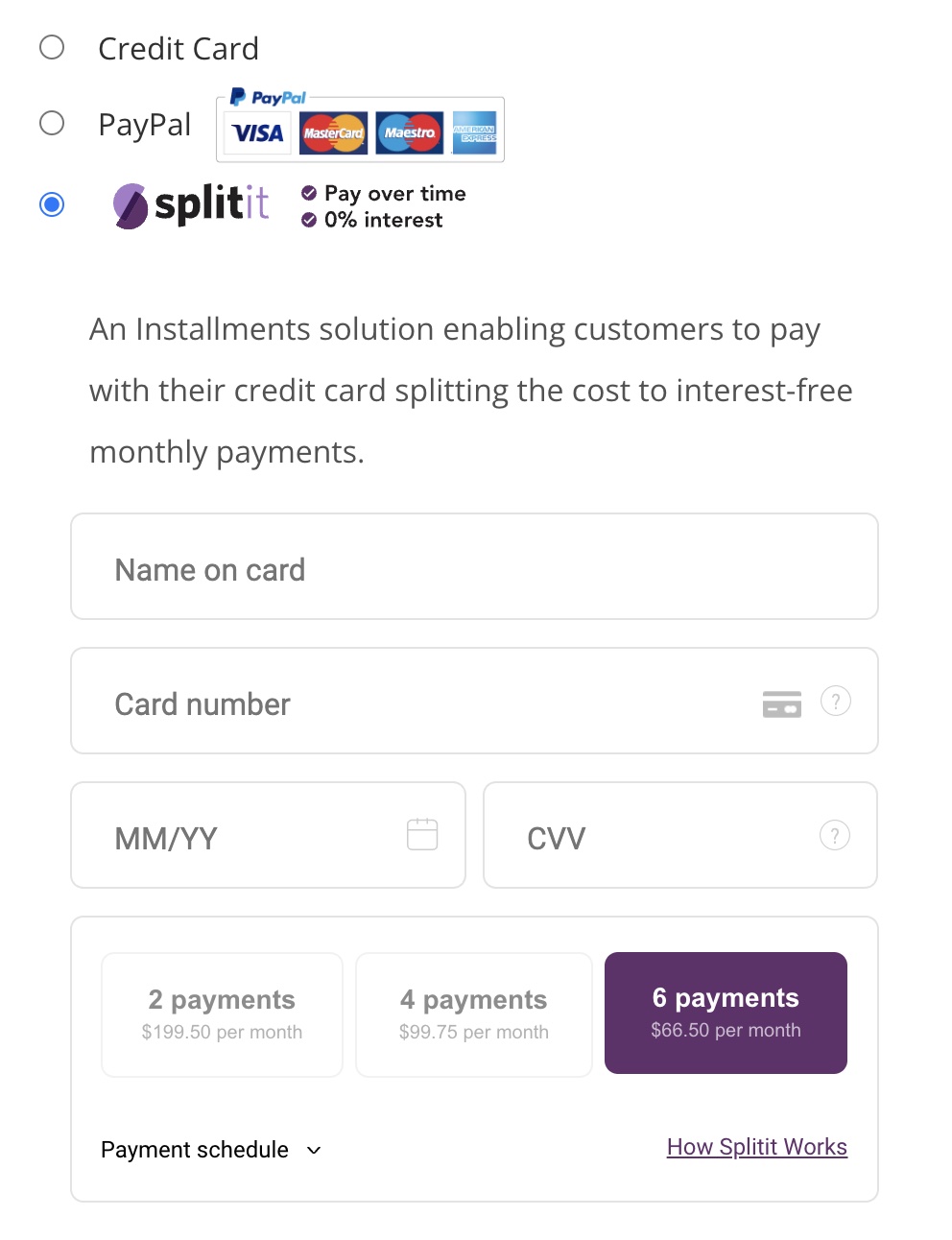 After the store purchase you will receive an invoice from LiquidSonics for the total value of the purchase, software license(s) from LiquidSonics, and an email from Splitit inviting you to visit the Splitit Portal which contains information on your payments.
Payments Portal
An example of the portal is below. It shows a purchase of Seventh Heaven for $69 made on 3 May 2022 which was split into three payments of $23. The first instalment was taken immediately and two more are planned in June and July. You can update the card if it's due to expire (or if changes for any other reason like a loss or re-issue). There will be a hold of $23 * 2 on the card until the 2nd payment, and then $23 until the third, to cover the next instalments. You can simply pay off the outstanding balance immediately if you wish as well.

Summary
If this service is of interest you just need to choose Splitit from the payment options in the LiquidSonics check-out, enter your details, a Visa or Mastercard payment method, and complete the checkout. It's as simple as that.
The key thing to remember is that when you purchase your product, you will only be charged for the first month's payment. The remaining balance will be held on your credit card until the final payment is made. After each monthly payment the amount held from the available balance will be reduced to the new remaining balance.
I hope you find the service a helpful and simple way to enjoy a fantastic new reverb from LiquidSonics.