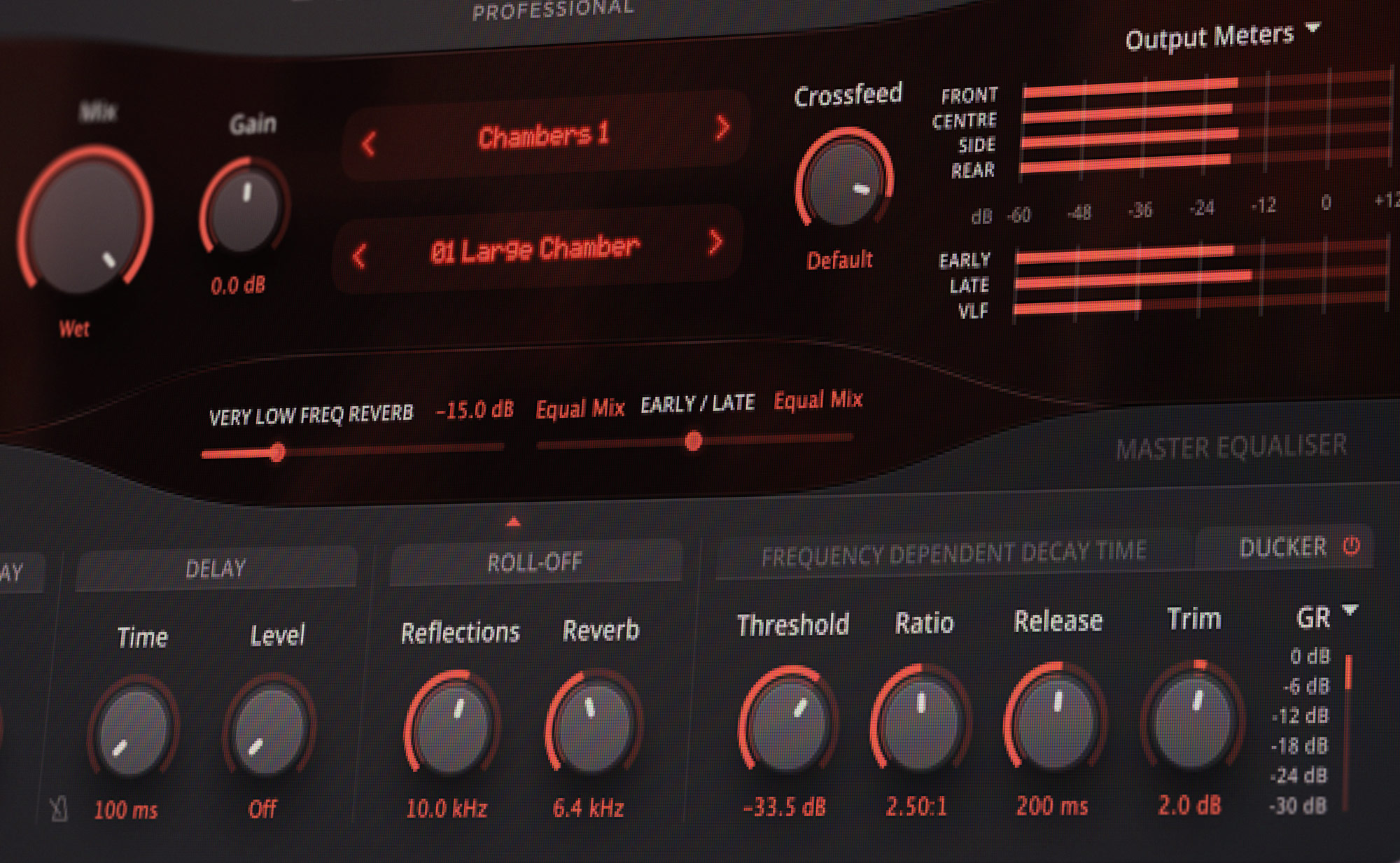 It's hard to believe Seventh Heaven has been with us for five years now! To mark the occasion the v1.4 update is the biggest single update the plug-in has received in its time. The new headline features are:
Ducking (professional edition only)
Surround support up to 7.1.6 (professional edition only)
Apple Silicon support (both editions)
To celebrate the anniversary we're offering 7 copies of Seventh Heaven Professional in the "Seven Days of Seventh Heaven" prize draw. That's one copy per day, for a week. You don't need to enter more than once, your entry rolls over to the next day's draw – so enter right now for the best chance to grab a copy! Details are at the end of the article…
Ducking
Reverb ducking was recently introduced to Illusion in the v1.2 update, it was very well received and we received many requests to add ducking to Seventh Heaven. Ducking is a very powerful tool that helps you improve clarity of a reverb by tucking the wet away until a musical phrase has ended, the reverb simply floods in to fill the space rather than competing with the instrument itself.
This is a simple trick that can be done with any compressor featuring a side-chain, but the real magic comes when only ducking the reverb tail and leaving the reflections to produce a wonderful sense of spatialisation. It is inconvenient and inefficient to set that up in a DAW using multiple instances, so the natural place for the facility is within the reverb plug-in itself.
Threshold controls the point at which the ducker activates when signal is above it, you need to make sure the ducker is just biting on the phrases, but don't set it too deep. The ratio controls how much the signal is compressed by when it breaches the threshold, it is usually best to go fairly easy on this control (below 3:1) unless you are going for something creative! Release controls how quickly the compression is removed when the signal falls again below the threshold.
Trim is a simple gain control, useful for compensating for the fact that ducking can reduce signal volumes. The gain reduction (GR) meter indicates how much compression is active at a given moment.
You should find with a little experimentation that the feature is very helpful on exposed piano, vocals or drums bringing additional clarity to the mix.
Surround Update Details
For score and post mixing professionals hankering for their favourite reverb presets like Mechanics Hall or Sunset Chamber in surround we're delighted to announce that Seventh Heaven Professional v1.4 supports channel counts up to 7.1.6! Now you can enjoy the wonderful reproductions of the legendary Bricasti M7 in surround without complex DAW / mixer routings and managing multiple plug-in instances.
Although it's possible to use multiple instances of a stereo reverb in surround workflows, it's far from ideal. Besides the obvious inconvenience, it can be difficult to define a coherent space if using different reverbs or presets but people often do that because using multiple instances of the same reverb opens you up to fold-down issues and suboptimal acoustics due to correlation between channels. The number of channels quite literally hits the roof with Atmos, so true-surround reverbs really are the way to go!
The multiple Fusion-IR engines in Seventh Heaven Professional have been upgraded to support cross-fed modulated surround convolution. Now when instantiating Seventh Heaven Professional on a surround track or bus your true stereo preset is replicated across all additional surround frames in the bed (i.e. sides, rear, centre and height) and passed through a sophisticated decorrelation process to ensure fold-down compatibility and greatly enhanced spatialisation performance.
The decorrelation engine ensures that every decorrelated channel sounds just like the original capture, but each is mathematically unique. This means you won't experience any problems with fold-downs or comb filtering due to differing path lengths between the listener and each speaker in the theatre. Seventh Heaven Professional uses the original captures for the front channels, and decorrelated Fusion-IRs for the remaining channels in the surround field.
The cross-fed Fusion-IR engines allow reverb to propagate naturally throughout a space just as you would expect from a surround reverb plug-in. A new 'Crossfeed' parameter is available in surround modes so that you can adjust the amount of propagation between channels. This greatly helps with controlling how much reverb moves from the source channel into the other surround channels, and assists with pan tracking. The M7 typically has the cross-fed paths (left to right, right to left) a little lower in the mix than the direct channels, but it can be helpful to have some control over this when working in surround. The new parameter allows for small boosts (max +3 dB) and deep cuts down to -24 dB (or disabling it altogether).
Metering has also been upgraded so that you can see input and output channel levels in the front, rear, side and centre planes as per Cinematic Rooms and Lustrous Plates Surround.
"An invaluable reverb, now in surround. What could be better? Seventh Heaven surround is the newest staple in my mix template."

Scott Michael Smith

Minions: The Rise of Gru, Moon Knight, The Umbrella Academy

"Seventh Heaven was already great in stereo, now with FULL Atmos support! It will definitely make you smile. LiquidSonics have consistently raised the bar to reverb plug-ins and what to expect from them. This is another superb tool for 21st Century mixing. If you do any surround or Atmos work it's essential."

Andy Bradfield

Moulin Rouge, Brothers Obsorne, Pet Shop Boys, Marillion
Additional Controls
A side-effect of every stereo plane sounding so close to the original M7 captures is that we do not have the usual level of disparity between channels that we are accustomed to in a surround reverb as the channels would usually all decay slightly differently. It can leave the sides and rears sound a little too similar to the fronts, and it is less interesting to the ear.
To alleviate the problem quickly and simply some new controls have been added to allow you to make some limited but effective adjustments in the surround planes (front, rear, side, centre and elevation) to delay, width and level. It's not quite the same as the effect achieved with a surround reverb based on a surround algorithm like Cinematic Rooms, but it can really help.
These controls allow you to adjust the wet mix's trim level (-24 dB to +12 dB), time-delay (up to 250 ms) and width (implemented using a level-compensated mid-side technique). Adding just a little delay to the rear and sides for example means the reverb decay's undulations and general envelope all hit the ear at slightly different moments. Adjusting the width in different regions can also make a huge difference to the quality of the spatialisation. I have to thank Alan Meyerson for kindly making this suggestion during some early rounds of beta testing.
"Seventh Heaven in surround is everything I'd hoped for. It's been on every mix since I got it!"

Alan Meyerson

Dune, The Book of Boba Fett, House of Gucci

"It's easy to tweak, quick to use yet incredibly detailed under the hood. When moving quickly through creative tasks I'd like something that sounds fantastic as soon as I pull it up. This plugin brings that immediacy and sonic accuracy to the surround and spatial audio game."

Alvin Wee

Encanto, Top Gun Maverick, No Time To Die
Free Update Now Available
The surround update is available now from the downloads page, and is offered as a free upgrade for all Seventh Heaven Professional users. Simply download the updater, install, and you're done. The update requires no additional drive space or updates to the Fusion-IR library as the new crossfeed and decorelation processes work with the existing captures.
The standard edition will remain a stereo plug-in as it does not have some of the internal DSP features or captures needed by the decorrelation engine. The ducking facility will also remain a benefit of the professional edition. Both editions have been updated with native Apple Silicon support.
Mac v1.4.0
Seventh Heaven: Full Installer | Update Installer
Seventh Heaven Professional: Complete Installer | Update Installer
Windows v1.4.0
Seventh Heaven: Full Installer | Update Installer
Seventh Heaven Professional: Complete Installer | Update Installer
Requirements
CPU and memory requirements are quite high and naturally scale with channel count, so please ensure you have a modern multi-core CPU and a few GB of memory for each instance that you intend to use, especially if you wish to use the v2 or long reverbs in surround. As a rough estimate, please allow around a half GB when using v1 reverbs up to 10 seconds long in 7.1, twice that for v2 presets, twice again when working with long (up to 30 second) reverbs. Memory usage is highest during reverb updates (i.e. when decorrelating the channels).
We would recommend high specification i7/i9/Xeon, Ryzen/Threadripper or M1 Pro/Max CPU with at least 8 physical cores, and 32GB or more of system memory. Although you can stress it if you want, please try to be kind by avoiding very long reverbs and high instance counts as we are pushing the technology pretty hard to achieve this wonderful feat of engineering! Cinematic Rooms remains a better option for higher instance count workflows and very long reverbs, or for less powerful systems.
Final Thoughts
Many of you have been asking for the ability to use Seventh Heaven in surround for years, and I'm delighted to finally be able to introduce the technical innovations needed to make it happen. If you're into your surround reverbs, I hope you enjoy the update!
Widen Your Immersive Reverb Repertoire With LiquidSonics' Surround Reverbs
Seventh Heaven Professional is available now for $299, or get it along with our other immersive surround reverbs in a bundle for some great savings. Pick the Pro Bundle for $599 which also includes Cinematic Rooms Professional and save $99, or the Surround Bundle for $699 which also includes Cinematic Rooms Professional and Lustrous Plates Surround to save $248 (over 25%)!
Upgrades
If you own the standard edition of Seventh Heaven and would like to upgrade to the professional edition please visit the knowledge base page, then look for item "Can I upgrade Seventh Heaven to Seventh Heaven Professional?" to learn more about the two ways to upgrade.
Seven Days Of Seventh Heaven Prize Draw
For your chance to win a free copy every day between 20-26th April enter the free prize draw here.