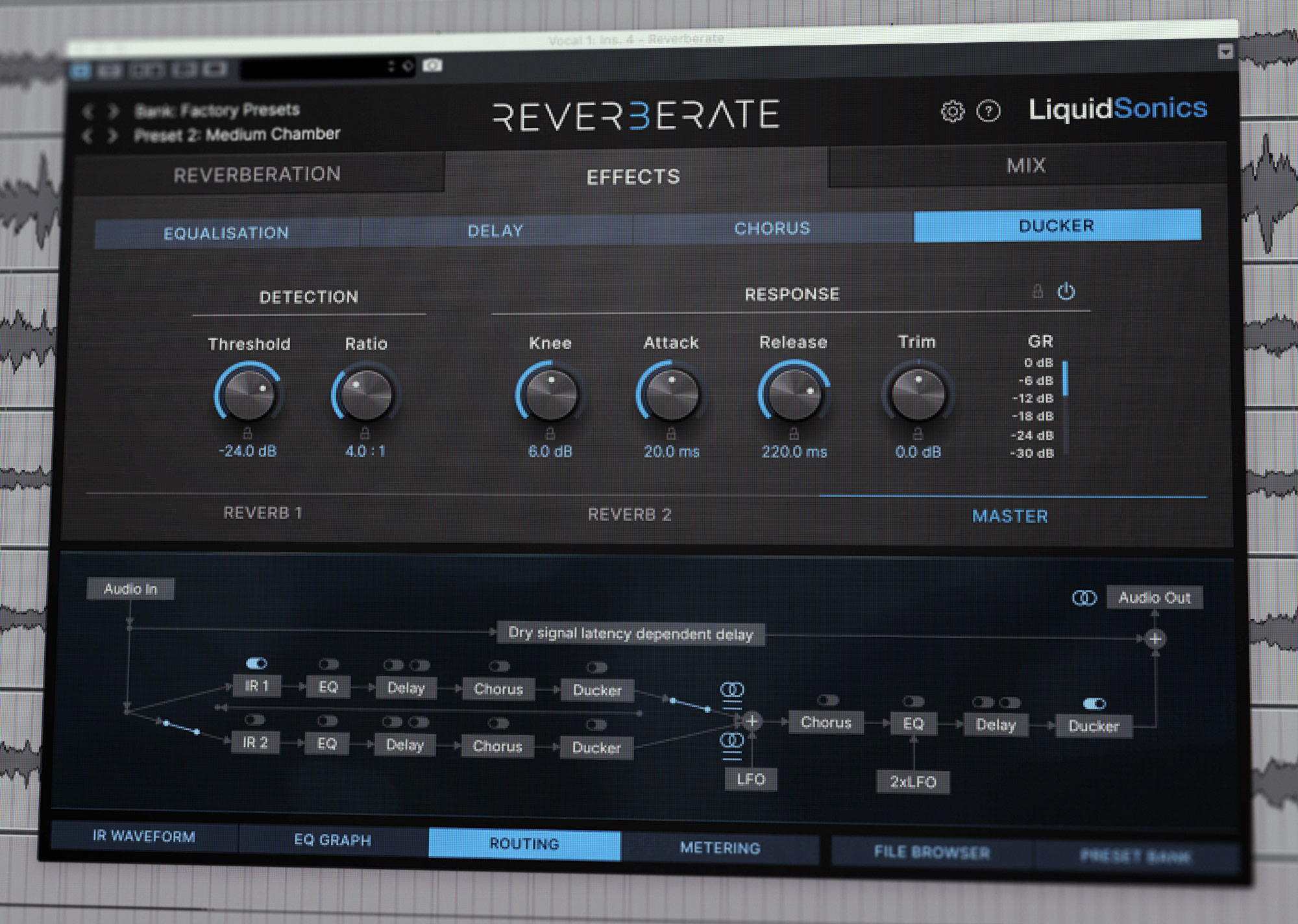 By popular demand following the successful updates to include ducking in Seventh Heaven Professional, Cinematic Rooms Professional, Lustrous Plates and Illusion the feature has just been added to Reverberate 3 – it's now available to download as a free update for all registered users.
Overview
The new ducker tab in the effects section joins the existing post-processing effects (chorus, delay and equalisation).
A ducker reduces the reverb signal when the input feeding the reverb rises above a threshold value at a rate determined by the ratio. The knee controls how gradually that ratio is applied. Attack and release control how quickly the compression begins to act on the signal when it is above or below the threshold. A simple trim control is provided to allow level adjustments because a ducker can significantly affect gain.
Ducking a reverb is often used to avoid a reverb swamping the dry signal, allowing the verb to be tucked away until there is space in the mix for it to fill the space between phrases improving intelligibility.
Now you can quickly and easily duck your favourite IR and Fusion-IR expansion reverbs without a need to set up a side-chained compressor after the reverb in your DAW.
Rather than being integrated to the reverb engine itself as in the other reverb updates, the ducker has been placed at the end of the processing chains (reverb 1, reverb 2 and master) so that any delays incorporated into a patch may also benefit from the ducker.
Downloads
To get the update just install the full plug-in over the top of your existing installation.
Reverberate v3.3.0: macOS | Windows
Important: Please ensure you have iLok License Manager v5.4 and up.
This release natively supports Intel and Apple Silicon Macs.
Purchasing
Reverberate 3 is available to buy now from the LiquidSonics store for $99, or if you own a Reverberate 1, 2 or Core license you can upgrade for 50% off. If you've never used Reverberate before, now is a good time to check out the free 14-day demo to hear what it can do you for your productions (don't forget to check out the free expansions available online).