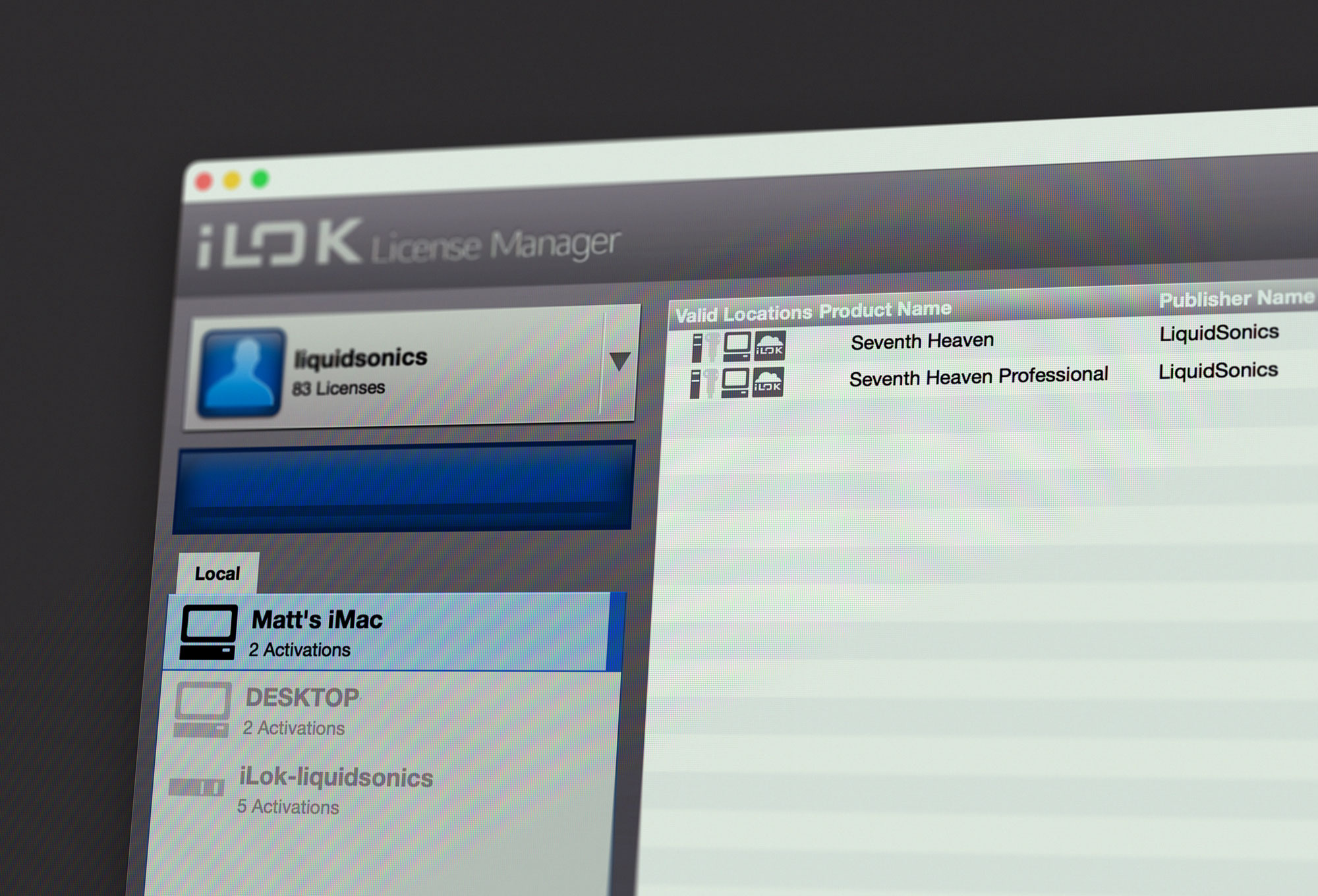 From small project studios to the largest post-production houses around, Seventh Heaven has proven to be an essential reverb plug-in for thousands of producers worldwide. The number one product change request I receive from people that love Seventh Heaven is to add machine activation support. Many of you have written to me explaining workflows that lead to some frustration that Seventh Heaven only supports iLok Cloud or iLok USB activation locations. With the release of v1.3.4 iLok machine activation is now also supported.
How Do I Get This? The tl;dr
Most Seventh Heaven licenses now have machine activation capability enabled automatically, for free.
You should probably read the sections below for more details but in summary:
Update your plugin to version 1.3.4 or above
Log into iLok License Manager
If you have a cloud-capable license with a spare activation just right click it, click activate, and select a machine location
Which Products And Licenses Are Affected?
The Seventh Heaven standard edition and Seventh Heaven Professional edition are both included in this change.
It does not make a difference if those products were bought individually, or came in a bundle, or were a standard-to-professional edition upgrade.
Which Types Of Licenses Are Affected?
You could have one of three types of license:
Retail pre 2019 (generally not cloud capable)
Retail post 2019 (generally cloud capable)
Not for resale (NFR, i.e. artist programme / partner / promotional licenses)
If you have a retail license transferred/bought from another user you probably don't know when the user originally bought the license so it could be pre 2019 – check its cloud capability status in license manager.
The change only applies to cloud-capable retail licenses of Seventh Heaven and Seventh Heaven Professional. Those have the following license location icons highlighted in iLok License Manager. The first indicates iLok v2/3, the second iLok v1 (not supported by any LiquidSonics products), the third represents machine activation and the final one is iLok cloud.

If your license is not cloud capable, the license icons in iLok License Manager will look like this:

If your retail license is not cloud capable you must first swap it for a cloud-capable license as these are the only ones to be granted the additional machine activation capabilities. You can find details about how to upgrade for free to a license that is cloud capable here.
Most NFR licenses issued will not be upgraded to support iLok Cloud or iLok machine activation locations.
What Did You Do To Make This Happen?
Two changes needed to happen.
1. The plug-in needed to be rebuilt with new protection data so that it knows to look on a machine location for potential licenses. This is why you need to upgrade the plug-in to the latest version. If you try to use a machine license with v1.3.3 or below it will not look there for a license so will not work.
2. The server-side details Pace keeps on all in-service licenses needed to be updated to allow machine activations to work locally, this change was made recently. Licenses already in your account will ultimately refresh to acknowledge the new capability, but you probably need to give them a little tickle to encourage that to happen more quickly if you want to activate to your machine right away.
Refreshing Available License Indications
Initially your license manager won't know about the new capability for supporting machine activation as it did not need to check anything about the allowed locations with Pace, as mentioned it probably looks like this:

If you do any of the following it will examine the license location permissions on Pace's server, then it should refresh the data it holds about it.
Open or close an iLok cloud session
Deactivate or activate a license to iLok cloud or iLok USB
Attempt to activate to a local computer by right-click activate (but not if you are dragging to the local machine in the left panel, the license manager appears not to check the valid location data first if you do this)
After completing any of those actions you should see the computer icon is now illuminated, if so it looks like this:

If not, try one of the other techniques.
How To Activate To Your Machine
The best steps for a trouble-free process are:
1. Install Seventh Heaven / Seventh Heaven Professional v1.3.4 or up – please be sure to get the correct edition for your license as it is the most common cause of activation issues. Downloads are available here. You do not need to reinstall any of the content, so the update installer is the one to select.
2. Ensure you have an available activation. Each license comes with two concurrent activations, the iLok license manager can tell you in many places if you have a free activation by looking out for X of 2 activations used. In the example below both activations are used already, so you would need to deactivate one of them to make progress. Maybe that means closing your iLok Cloud session, or deactivating a license from one of your iLok USB devices.

3. Right click the license, and then click activate.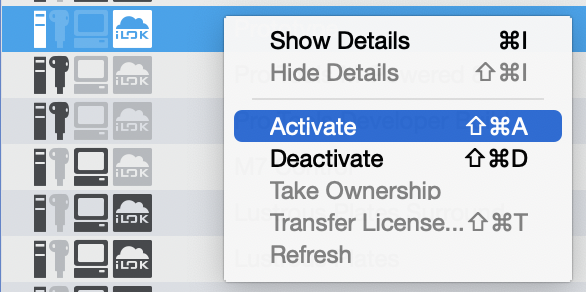 4. The license should refresh and allow you to select a machine location in addition to cloud or USB locations.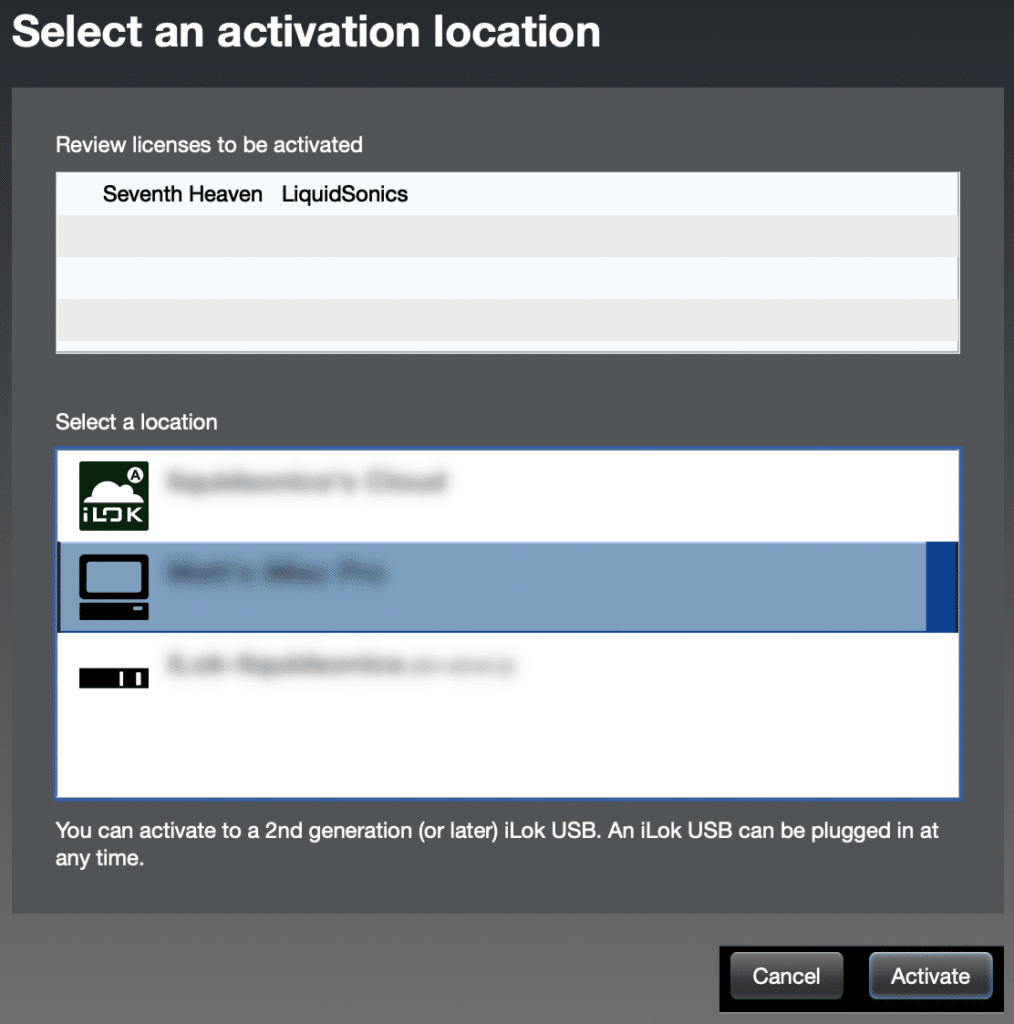 If you have any problems please write in to support, and have a collection of images of your license manager views and any errors ready to show so I can help pick out the problem.
Resetting Machine Activations
You may lose access to a machine license if you format the computer without deactivating it first or if it suffers some hardware failure. In this case we can reset machine licenses, just reach out to the support line with your license details and iLok account name, preferably specifying what machine you need to be reset or else we may need to reset them all. Then you can simply activate the license to the location of choice.
Why Now? Didn't you always say…
Over the last 18 months I have noticed a considerable increase in demand for more flexible licensing options for Seventh Heaven.
The primary reason for not including machine activation support in the past was because Pace always advises developers that machine activations are a less secure location than iLok Cloud and iLok USB, the technical reasons for that are sound and remain so. For many years the fine balance of business health/risk vs customer convenience felt about right.
We all know the pandemic has sent shockwaves through workflows, and of course musicians have been greatly affected by this too. A lot of the changes are going to be permanent. As hardware and software evolution marches onwards it will be the norm that many of us are going to be mixing away from the studio on sleek powerful laptops more often than ever for more reasons than ever. Many of you have Macs or laptops without many free USB ports, or simply don't want an inch of dongle or adapter protruding out of the side that you could easily knock during a session.
It is an incredible world where producers are increasingly preparing or even finishing a mix without studio monitors by using one of a range of new headphones-based speaker/room simulation tools, and with Steinberg recently announcing that even they are moving past hardware dongles soon, the direction of travel is clear.
Many have found iLok Cloud to be generally workable. I hoped this was the solution for a dongle-free life, but far too many people have found themselves in scenarios where it's just not working out for them. Whether it's spotty WiFi, a dropped Internet connection, travel, or even a cloud infrastructure failure – a creative moment lost to software licensing problems is a hassle. It's also fair that many people want to shut off the internet entirely when they are working – whether that's for focus or security reasons, I don't want to get in the way of that. Whilst many are still happy leaving their iLok in a desktop computer and forgetting about it, the ideal location for an increasing number of people is the hard drive. Many of you explained that Seventh Heaven was getting in the way of your workflow, and that it was simply time to move on from the dongle.
I do what I do with LiquidSonics because I'm trying to make brilliant reverbs for as many people as possible. I've listened, adapted, and am making this change to help you out if machine activation licensing matters to you simply because I've come to realise that it's just the right thing to do.