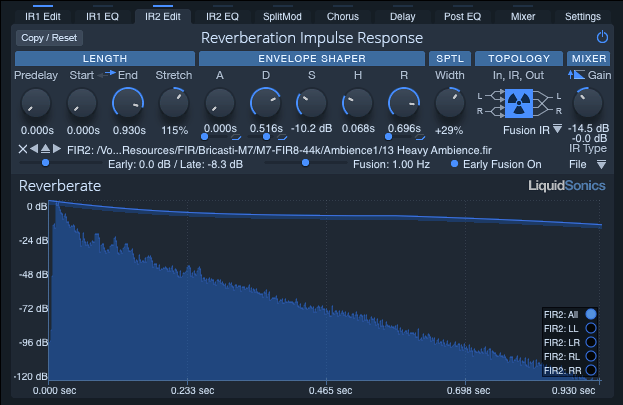 We're proud to announce the availability of Reverberate 2.0, featuring our most innovative reverb technology to date, Fusion-IR.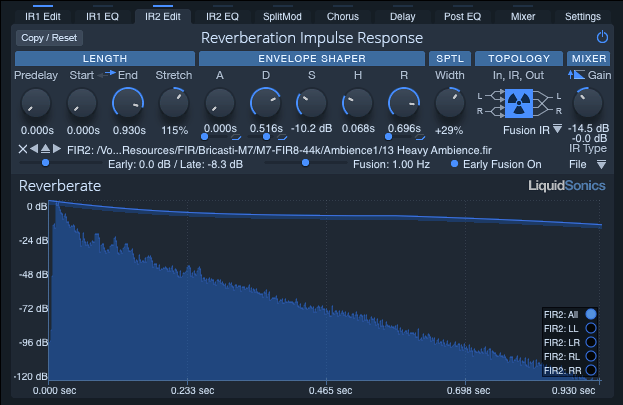 Since its original launch in 2009 Reverberate has become a staple in project and professional studios worldwide, known for its powerful modulation capabilities bringing true stereo impulse responses to life.
Today, Reverberate 2 introduces Fusion-IRs, an innovative approach to convolution creating a lively, organic reverberation that is impossible to achieve with traditional static convolution reverbs.
Fusion-IR processing captures the evolving character of an algorithmic reverb using multiple true-stereo reverb streams that are processed simultaneously. The inputs to the convolution streams are modulated and the outputs fused into a rich, captivating space that mixes effortlessly with your music without sacrificing the editing precision, visual feedback and flexibility of a convolution based product.
All Fusion-IRs contain separately sampled early and late reverb components for a level of mix control rarely found in free or commercial impulse response packs.
LiquidSonics has produced a stunning new Bricasti M7 Fusion-IR library, meticulously captured specifically for Reverberate 2.0 and provided for download free of charge.
Reverberate 2.0 is available for VST, AU and AAX formats priced at £80.
Existing Reverberate users can upgrade for just £35.