Reverberate Core
LiquidSonics Reverberate Core is a highly efficient true stereo convolution reverb audio processor featuring zero-latency operation with oversampled paragraphic equalisers and envelope control for Mac and PC.
Convolution Reverb Fundamentals
Reverberate Core focuses on providing a solid foundation for your reverb requirements in a very affordable package. Experience the realism of true stereo impulse response reverb or select from the fundamental processing topologies (mono-to-stereo / stereo) in a very easy to use and efficient VST and AU plug-in. 
The essential parameters found on all good reverbs such as a pre-delay, gate and early onset control are all provided in a simple to use set of controls. Advanced reverb decay shapes can be sculpted using the envelope controls, and pitch corrections are possible using the stretch parameter.
High Quality Filtering
The essential filtering tools to place a reverb in the mix are covered with Reverberate Core's oversampled paragraphic equaliser. Choose from all major filter topologies in a very simple to use interface.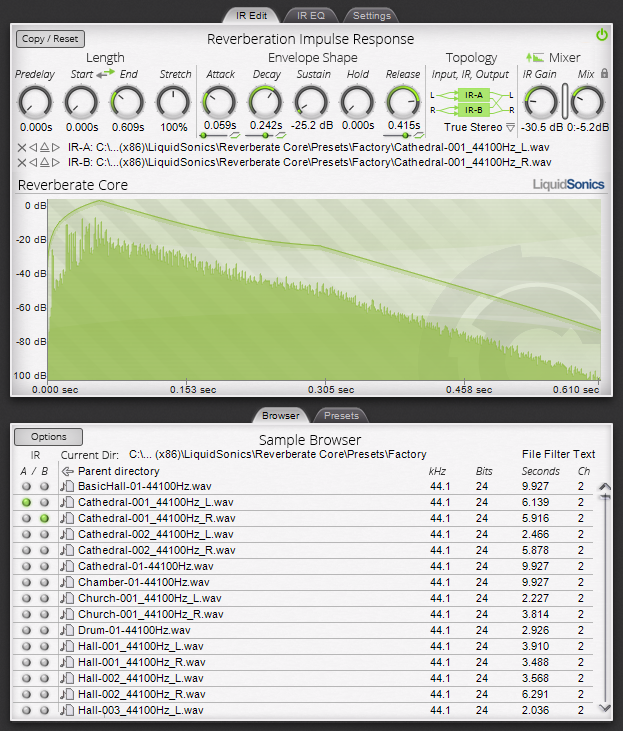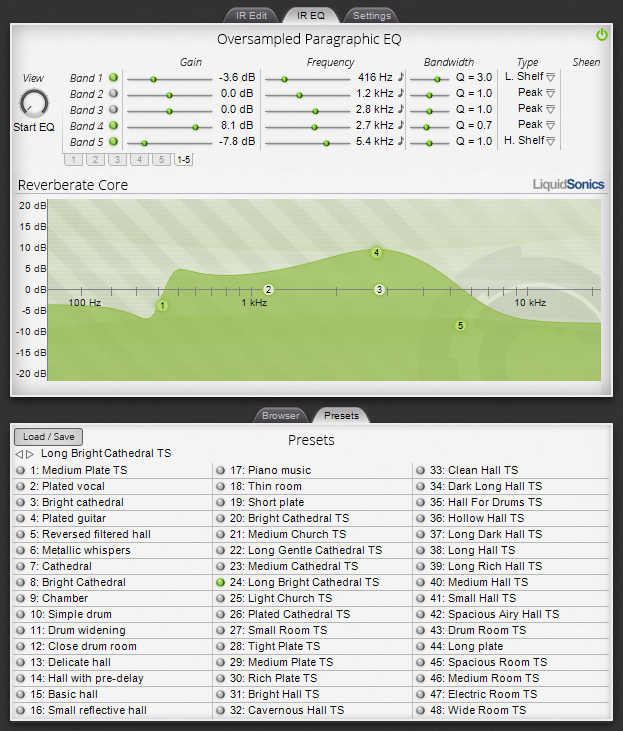 For Your Lightweight Reverb Requirements
Owners of Reverberate 2 may find Reverberate Core especially attractive when left at a higher latency setting as a workhorse true stereo convolution engine or when the more advanced interface of Reverberate 2 is simply not needed. In instances where only a basic convolution configuration is required (such as use of third party impulse response libraries requiring minimal effects and no modulation) Reverberate Core can act as an extremely light-weight reverb increasing the number of instances that it is practical to employ in a project at once. Reverberate 2 preset files are compatible with Reverberate Core where features exist in both programs.
Presets and IRs
Reverberate Core is supplied with a bank of 48 true stereo presets covering a core set of halls, rooms, plates and spaces. Fusion-IR is not supported in Reverberate Core.
Reverberate Core is a fully featured convolution reverb, a complete list of capabilities is as follows:
True Stereo convolution reverb
Supports Mac and PC (VST / RTAS / AU)
Zero latency (or select up to 8192 samples latency)
Wav, WIR, SDIR, Aiff and Flac file support
Integrated samples and presets browsers
Drag and drop IRs from OS file browsers
ADSHR envelopes with linear, log and exponential shape control
50%-150% stretch
Double oversampled EQ
48 Presets (including 29 true-stereo presets)
Downsampling (low CPU) mode available for use in high sample rate projects
64-bit VST and AU on Mac and PC
CUDA support on PC
Please note that the Pro Tools AAX format is not supported in Reverberate Core. Please consider Reverberate 2 for AAX support.
Reverberate Core supports all major VST/AU DAWs on Windows and macOS
Windows XP and above
OS X / macOS 10.7 and above
VST 2.4 and Audio Unit (AAX is not supported)
32-bit or 64-bit DAWs and processors
Full Download and 30-Day Demo
Reverberate Core is available to download now for macOS and Windows (these downloads contain both the full and demo versions). The demo will function for 30 days and after this period audio will not be processed until a license file is supplied (provided via email after purchase). 
Purchasing and License Information
Available to buy now from the LiquidSonics Store for just $39
Product authorisation is via a license file delivered by emailed. No iLok is required.