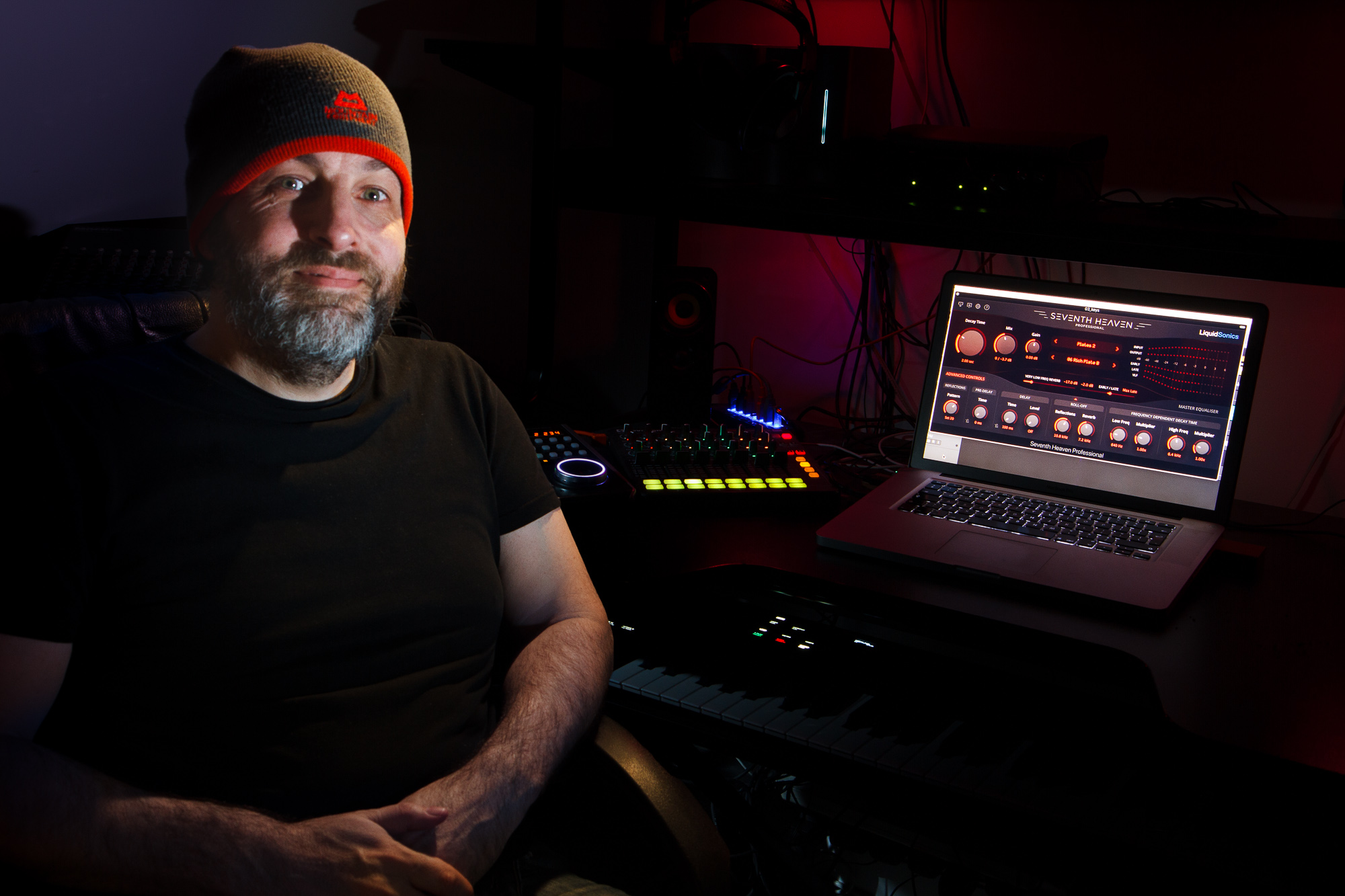 In March we ran a prize draw on the LiquidSonics social media channels though to the end of the month, and now we're into April it was a pleasure to fire up the random number generator and pick a winner from our list! Congratulations to Ben Hall from the UK who selected a copy of Seventh Heaven Professional from the LiquidSonics portfolio.
I dropped off Ben's prize yesterday, he's been using it for a day or so now and had this to say about it:
"I've been making music since the time when digital reverb was first becoming accessible to project studios. Back then, the technology was in it's infancy, but it was ground-breaking by allowing a range of ambiences you just couldn't do previously.

These days we are spoiled for choice, but I often found I was a little unsatisfied with my in-the-box reverb options – they often sounded "OK" but didn't quite "feel" right, and I have been looking for something to fill that hole. And in the first few hours of using it, Seventh Heaven has been nothing short of spectacular!

When trying reverbs there's a few things I usually do – checking out the short rooms for believable ambiences, and I also like to crank up the reverb times to generate washes that take over from the source – it really exposes the quality of the generated reverb in comparison to the source. Everything I tried sounded incredible.

Even when pushed into unconventional sound design territory, not something you can normally do with convolution-based reverbs, the results were first class!

It's clear there is some pretty serious tech under the hood, but it doesn't feel like that to use – the interface is a dream, and gives you everything you need to quickly shape the reverb to taste, without getting bogged down in hundreds of parameters.

One of the things I have been having fun with during the past year of downtime is digging out old material from my archives and re-working and remixing it with modern tools. Seventh Heaven is going to be all over this stuff – I'm not sure I'll want to be using anything else now!

Thanks to LiquidSonics for this opportunity to up my reverb game!"
Ben runs mu:zines (@mu_zines on Twitter), a free labour-of-love archive project of UK music production magazines from the 80s and 90s – a treasure trove of thousands of vintage music gear reviews, artist interviews and features. It's fascinating to read the first impressions of some of the classics we now have in the box before they turned into legends or disappeared into obscurity! Take Electronics & Music Maker's first look at the Lexicon 480L from September 1986 for example when the software wasn't finished yet and they didn't even know what the price would be, or Electronic Soundmaker's round-up of seven of the most exciting reverbs in 1984 some of which I'm sure will be new to many of us! He also has an outlet for his audio-related projects at difficultAudio and is currently has an interest in developing tools around the area of plugin control.
Be sure to follow LiquidSonics on Facebook and Instagram if you missed out this time as we're sure to be running another draw later in the year.