Exhaustively and meticulously sampled, Seventh Heaven Professional is the most comprehensive and realistic simulation of the Bricasti M7 available
Buy Now for $299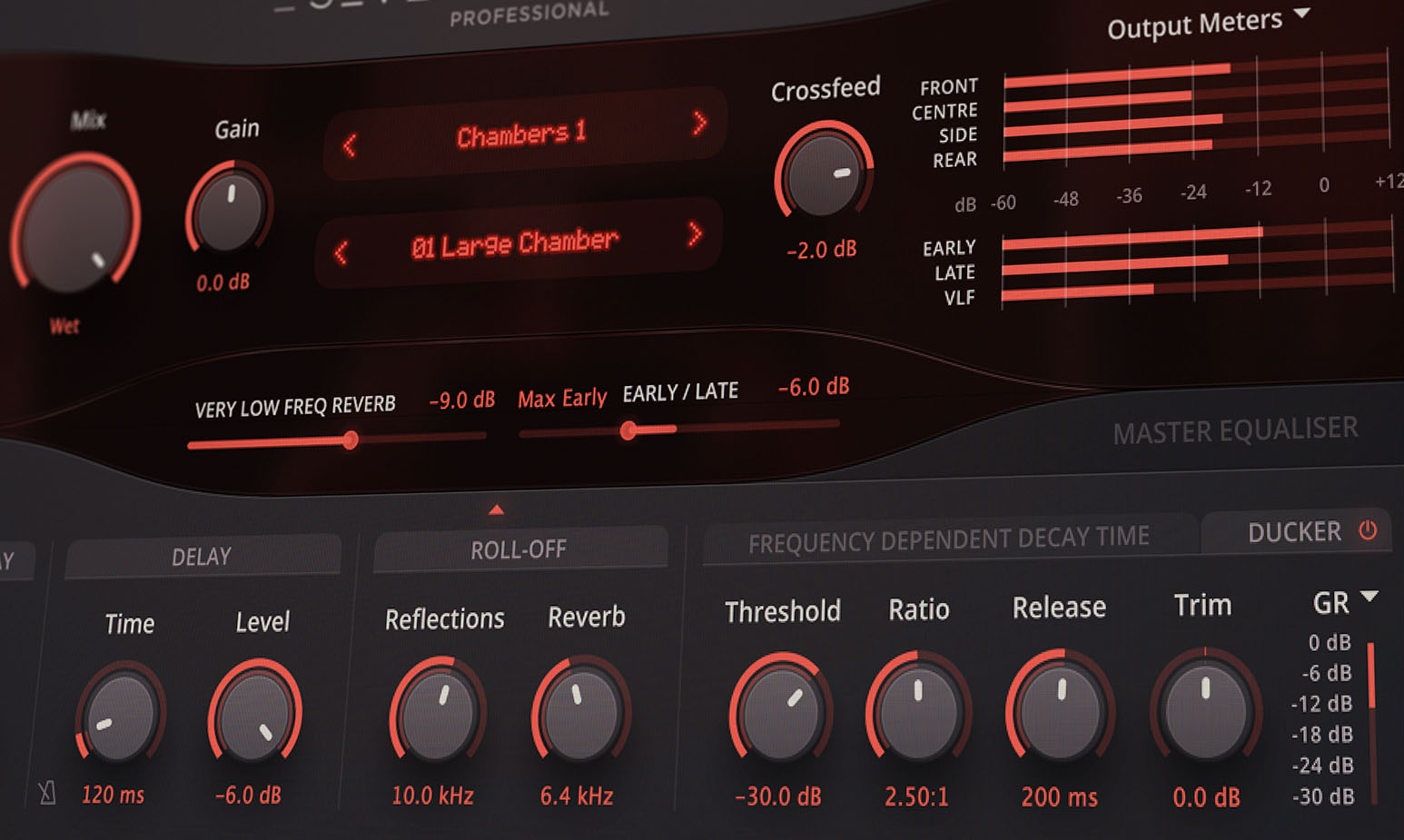 The Best M7 Simulation
Made Possible With Fusion-IR
For years the Bricasti M7 eluded all attempts to capture and reproduce the subtle beauty of this legendary hardware. Many in the industry considered it impossible.
Fusion-IR is a unique modulated convolution-based capture and reproduction technology developed specifically around the needs of M7. It redefines the rules of acoustic and workflow possibilities for convolution based reverberation processors.
Nothing comes closer to M7 hardware than Seventh Heaven Professional
Now used around the world, from the smallest mountain-top backpack studios to the biggest post production facilities in London and Los Angeles, Seventh Heaven Professional is the definitive way to experience the power and beauty of M7 reverbs natively within your DAW in up to 9.1.6 Atmos.
"Seventh Heaven is easily one of the best reverbs out there on the market. Incredibly realistic and has has that illusive 3D depth you just don't get in other software reverbs. Very impressive!"

Toby Pitman

Rocketman, Quantum of Solace, Kingsman 2
"Seventh Heaven is probably the highest quality reverb I have in the box. It's my new goto for realistic studio rooms and when I'm looking for long luxurious halls and plates. I absolutely love the low end you can get from this reverb, it's in my opinion where some other good plugin verbs fall flat. It's a convolution reverb, but with the fantastic tweak-ability, it feels more like an algorithmic reverb, which is a huge plus. Seventh Heaven sounds just as amazing!!"

Jonas Westling

Lady Gaga, Paul McCartney, Rufus Wainwright
"The Seventh Heaven reverbs have been part of my armoury for a while now. Not only is the GUI a familiar friend but the speed at which you can change from one preset to another makes the plug-in very usable."

Simon Rhodes

Iron Man 2, Skyfall
"Simply put - this is a 'Must Have' plugin, I have an M7 in my rack, and it's uncanny.

This must be on the buy ASAP list, it's THAT good!"

Andy Bradfield

Manic Street Preachers, Elbow
"LiquidSonics make some lovely reverbs. I was looking for something to compliment my Bricasti hardware unit, and they came out with SeventhHeaven; it was a must have for me and shines."

Rik Simpson

Coldplay, Jay Z
Each And Every Preset
The M7 excels in presenting the world's most realistic simulation of rooms, spaces and plates in the most flattering of lights.
From tight, realistic interiors, chambers and studios to lush outdoor expanses, cathedrals and halls, the M7 can do it all.
Seventh Heaven Professional includes every preset from the Bricasti M7
This includes all v1 and v2 firmware revision presets, including the special nonlinear reverbs and even additional interiors presets not available in hardware.
It took many months of fully automated capture to produce the thousands of Fusion-IRs needed for Seventh Heaven Professional. Only then could the true finesse of the modulated hardware be achieved via convolution. The early reflections, low frequency reverb, and late reverb were captured individually for the ultimate in control and acoustic realism.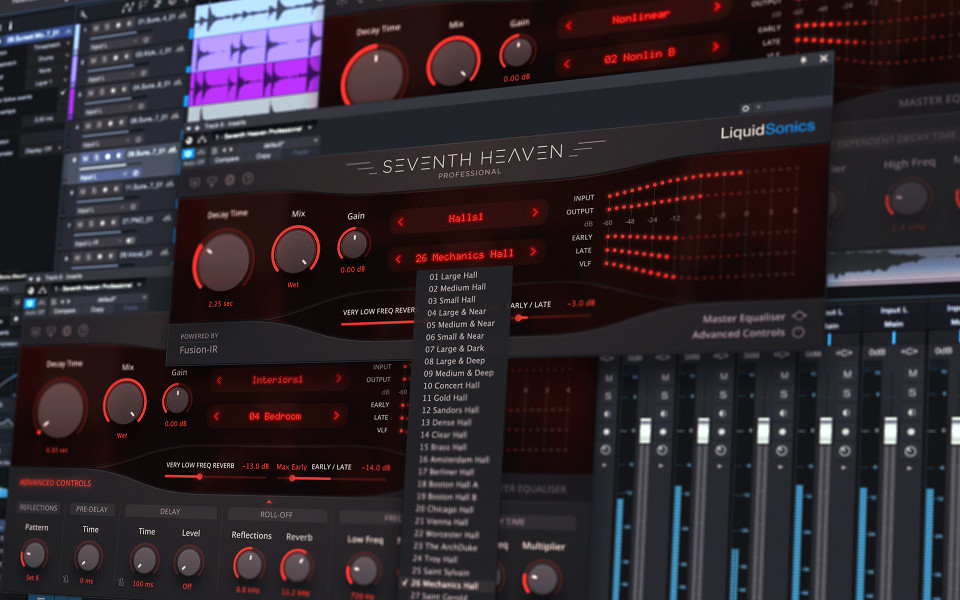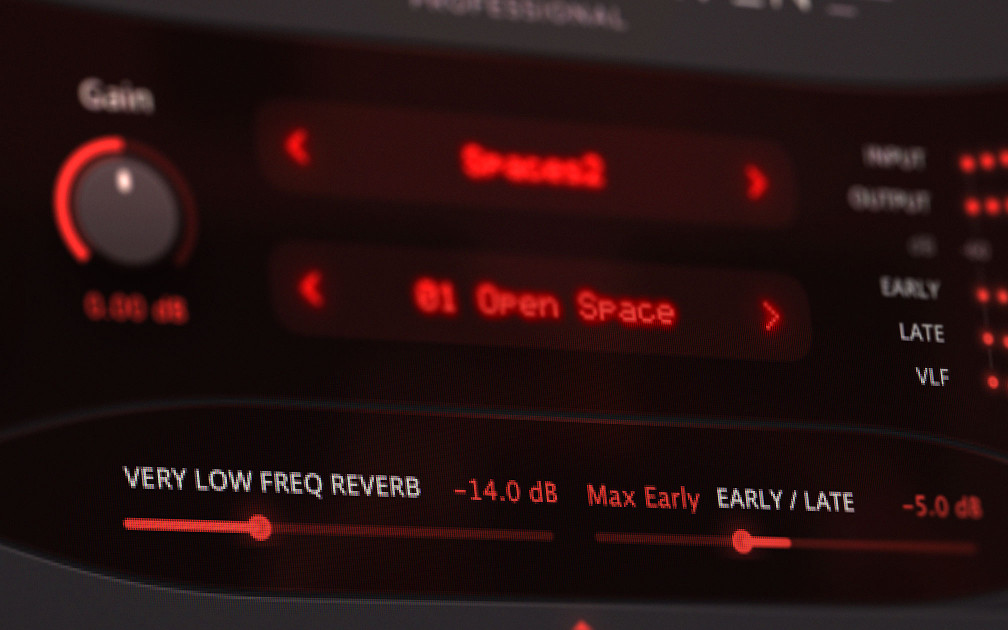 The Sound And Flexibility of Algorithmic Reverbs
Treat Seventh Heaven Professional like any algorithmic reverb and forget what you've heard about the lifeless sound of convolution. It doesn't apply here.
In a sampled reverb it is typically impossible to sculpt a space as required, and as is expected from users of hardware and software algorithmic reverbs. Even simple, critical tasks such as balancing the early and late reverb are impossible jobs with most convolution reverbs. Not to mention, usually any modulation is completely lost and the captures lose the organic life of the hardware.
Not so in Seventh Heaven Professional. It has the flexibility of algorithmic reverbs allowing you to perfect the acoustics of a space just as can be done on an M7 and retains the organic, lively vibe thought to be impossible to capture.
You can even use the stereo captures in surround workflows. LiquidSonics' advanced impulse response decorrelation technology ensures excellent fold-down compatibility and the convenience of up to 9.1.6 workflows in your DAW.
Vast Editing Potential
The Ultimate Reverb Tails
The M7's lush, rich decays are the star of the show. The original v1 decays are the most realistic ever heard, and the v2 exhibit stunning modulation qualities.
Every preset's decay can be set across the M7's full decay time range (from 200 milliseconds right up to 30 seconds).
Delays With Added Tempo Synchronisation
The M7's pre-delay and multi-voice delay can be modified as freely as within the hardware itself.
Seventh Heaven Professional takes a further step by providing the ability to sync pre-delay and delay to DAW tempo.
Reflection Pattern Selection
Each and every modulated early reflection pattern has been captured and can be freely swapped at will. Any space can be absolutely transformed, an unprecedented feat for a sampled reverb.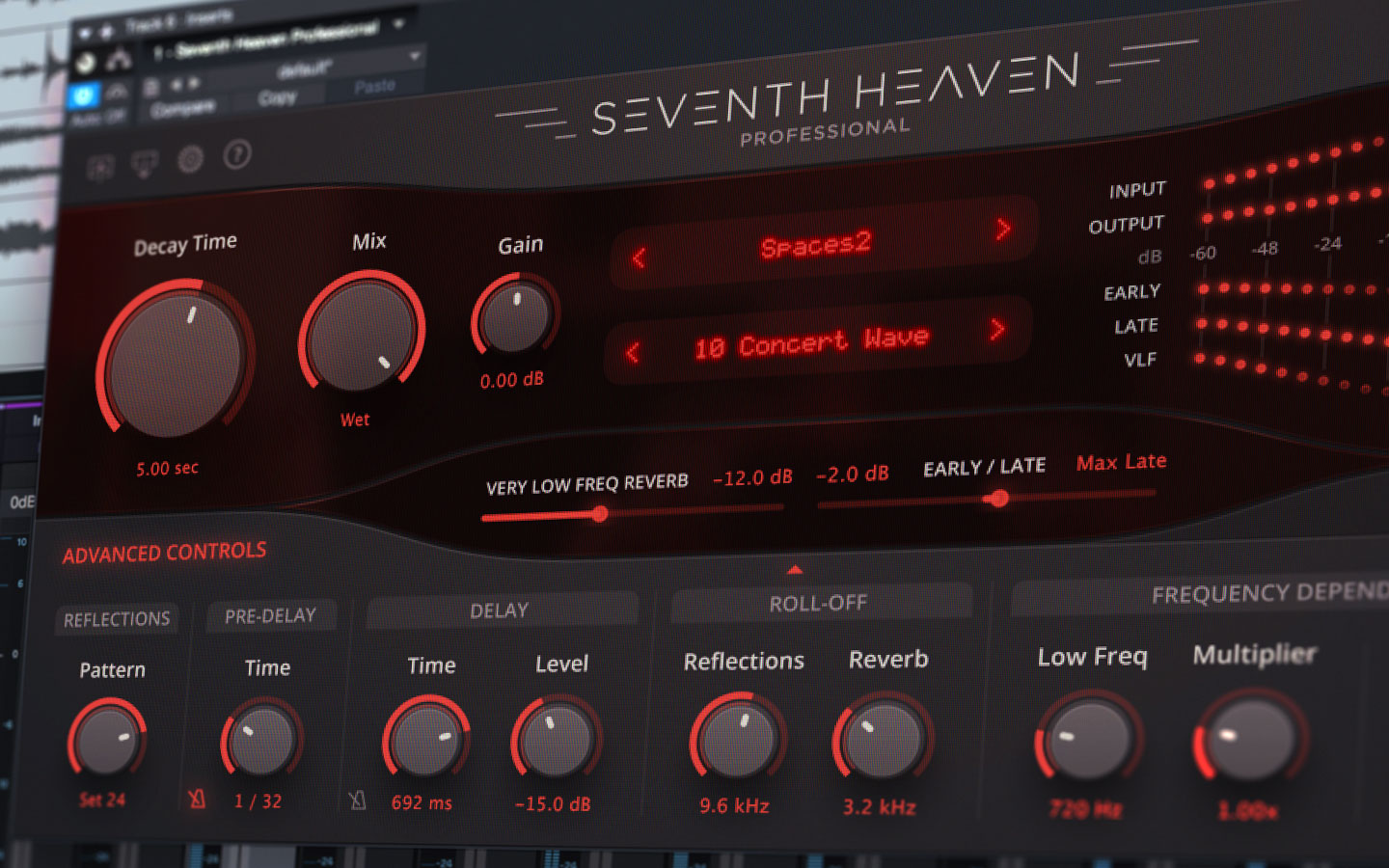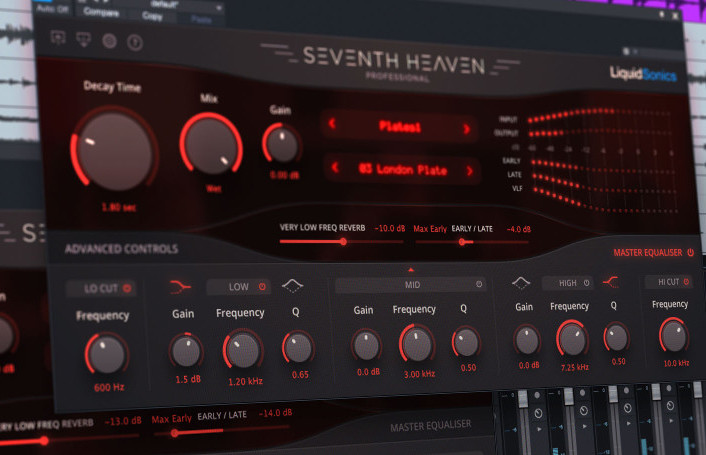 Advanced Equalisation
Precise Roll-off Filtering
The M7's unique roll-off curves are perfectly designed for its reverberation and reflections. Each curve (different for v1/v2 decay and early reflections) was studied and reproduced in every available position. This provides an extremely accurate reproduction of this critical component in the acoustic chain.
5-band Post-EQ
The M7's early and late reverb filters have been augmented with a full 5-band parametric equaliser in Seventh Heaven Professional.
Frequency Dependent Reverb Decay Times
Seventh Heaven Professional also includes the ability to apply post-process low and high frequency decay time modification to the reverb.
Ducking
Ducking is a very powerful tool that helps you improve clarity of a reverb by tucking the wet away until a musical phrase has ended, the reverb simply floods in to fill the space rather than competing with the instrument itself.
Available Free For 14 Days
The Seventh Heaven Professional trial is available for free on macOS and Windows. Just enter the iLok code below in iLok License Manager and install the plug-in:
6290-7973-7424-1304-9054-6507-4018-75
After 14 days a full license is required to continue using the plug-in. 
Buy Now for $299
Audio Examples
Each sample starts off untreated, the reverb is faded in and then back out of the audio example to help the listener get a sense of the reverb at different mix settings.
Thanks to Brent March for the examples of full mixes using Seventh Heaven. Read his review here.
Purchasing and License Information
Available to buy from the LiquidSonics Store for $299 or click below to add to your basket. An iLok 2/3 dongle, iLok machine activation or iLok Cloud is required.
Owners of Seventh Heaven standard edition can upgrade to Seventh Heaven Professional edition at any time.
Please be aware that you must surrender your standard edition license during the upgrade process, so we typically recommend upgrading to the Seventh Heaven with Pro Bundle so that you can continue to recall DAW sessions containing the standard edition.
Please see the knowledge base for more information on how to move from Seventh Heaven to Seventh Heaven Professional or Seventh Heaven with Pro Bundle.
Additional Information
Seventh Heaven Professional supports DAWs meeting the following specification:
iLok 2/3,

iLok machine activation

or iLok Cloud
Windows 7 and above
OS X / macOS 10.9 and above
VST 2.4, VST3, Audio Unit (AUv2) and AAX Native plug-in formats
64-bit DAWs
10 GB hard disk space is recommended (3 GB minimum) *
At least 8 GB of main memory is recommended
A dual core i5 processor or above is recommended
Apple Silicon and Intel macs supported
* Data files can be resident on any non-system disk if required, and partial installs can be undertaken
Seventh Heaven Professional is a very a comprehensive reverb suitable for any production, a complete list of capabilities follows:
Over 236 multi-sampled Fusion-IR presets

All M7 v1 algorithm presets

All M7 v2 algorithm presets

All M7 non-linear presets
All samples were recorded digitally at 96 kHz using AES-EBU with LiquidSonics' proprietary impulse response capture technology
When working at other sample rates IRs are resampled within the plug-in as required with a high quality resampling algorithm
Samples are provided in a proprietary true-stereo multi-sampled Fusion-IR format

Precise decay time control

Minimum 200 ms

Maximum 30 seconds

High quality interpolation between sampled positions

Low, early and late reverb level control

Early / late from -20 dB to 0 dB
VLF from -20 dB to 0 dB (or off)

Flexible roll-off frequency control

Early reflections from 80 Hz to 22 kHz

Late reverb from 80 Hz to 22 kHz
Late roll-off shape determined by current v1/v2 algorithm mode

Mono, stereo, quad, 5.x, 7.x and 7.1.6 support

32 selectable distinct early reflection patterns

Pre-delay

Select from 0 to 500 ms
Optionally sync to host tempo
Only applied to the low frequency and late reverb as per M7

Delay

Select from 100 ms to 1 second

Level from -20 dB to 0 dB (or off)

Optionally sync to host tempo
Only applied to the late reverb as per M7

Multi-band decay time

Multipliers from 0.2x to 4x

Low: 80 Hz to 4.8 kHz
High: 200 Hz to 16 kHz
Supplementary (i.e. does not change a preset's inherent LF/HF multiplier value)

Mix and gain level control

5-band oversampled master equaliser

1x high pass (12 dB / oct)
1x low shelf or bell
1x mid bell
1x high shelf or bell
1x Massberg high cut (12 dB / oct)

Tool-tip help available on most parameters
High quality discrete-point metering

Input level (-60 to +6 dB)
Output level (-60 to +6 dB)
Reverb: VLF, early and late levels (-60 to +6 dB)

Channel formats:

Mono
Stereo
5.0 – 5.1.4
7.0 – 7.1.6
9.0.4 – 9.1.6

Show or hide the advanced controls and equaliser for a simpler or more functional interface
Comprehensive settings configuration

Low CPU mode (4096 sample delay, approx 50% CPU saving)
Reset or hold many parameters on preset change
Store preset data files on an alternative disk
M7 Algorithm v1 presets (x148)
The original bank of presets, these are typically the presets the M7 is most well known for. This includes all additional v1 presets that were included in the v2 firmware upgrade.
Ambience
01 Large Ambience
02 Med Ambience
03 Small Ambience
04 Large & Dark
05 Medium & Dark
06 Small & Dark
07 Large & Bright
08 Med & Bright
09 Small & Bright
10 Deep Ambience
11 Long Ambience
12 Clear Ambience
13 Heavy Ambience
14 Bass XXL
15 Percussion Air
Chambers
01 Large Chamber
02 Medium Chamber
03 Small Chamber
04 Large & Dark
05 Small & Dark
06 Large & Bright
07 Small & Bright
08 Kick Chamber
09 Snare Chamber
10 Vocal Chamber
11 A&M Chamber
12 CD Chamber
13 Deep Chamber
14 Amb Chamber A
15 A&M Chamber B
16 Old Chamber
17 Sunset Chamber
18 Amb Chamber B
19 Stone Chamber
20 Tiled Chamber
21 Fat Chamber
22 Echo Chamber
Halls
01 Large Hall
02 Medium Hall
03 Small Hall
04 Large & Near
05 Medium & Near
06 Small & Near
07 Large & Dark
08 Large & Deep
09 Medium & Deep
10 Concert Hall
11 Gold Hall
12 Sandors Hall
13 Dense Hall
14 Clear Hall
15 Brass Hall
16 Amsterdam Hall
17 Berliner Hall
18 Boston Hall A
19 Boston Hall B
20 Chicago Hall
21 Vienna Hall
22 Worcester Hall
23 The ArchDuke
24 Troy Hall
25 Saint Sylvain
26 Mechanics Hall
27 Saint Gerold
28 Pepes Hall A
29 Pepes Hall B
30 Reflect Hall A
31 Reflect Hall B
32 Piano Hall
Plates
01 Bright Plate
02 Dark Plate
03 London Plate
04 Snare Plate A
05 Snare Plate B
06 Vocal Plate
07 Old Plate
08 Rich Plate
09 Gold Plate
10 Dense Plate
11 Silver Plate
12 Percussion Plate
13 Echo Plate
14 CD Plate A
15 CD Plate B
16 Large Plate
17 Small Plate
18 Fat Plate
19 Crystal Plate
20 Sun Plate A
21 Sun Plate B
22 Sun Plate C
23 Vocal Plate B
24 Repro Plate
Rooms
01 Studio A
02 Studio B Close
03 Studio B Far
04 Studio C
05 Studio D
06 Studio E
07 Deep Stone
08 Music Room
09 Heavy Room
10 Large Wooden
11 Small Wooden
12 Large Tiled
13 Medium Tiled
14 Small Tiled
15 Drum & Chamber
16 Djangos Room
17 Small Vox Room
18 Glass Room
19 Percussion
20 Marble Foyer
21 Large Q Room
22 Small Q Room
23 Large Red Room
24 Red Room
25 Blue Room
26 Large Room
27 Small Room
28 Front Room
29 Center Room
30 Back Room
31 Studio K
32 Waits Room
33 Corn Room
34 Oakland Room
35 SF Perf Room
36 Long Wood Room
Spaces
01 North Church
02 East Church
03 South Church
04 West Church
05 Cinema Room
06 Scoring Stage
07 Bath House
08 Car Park
09 Arena
10 Redwood Valley
11 Tanglewood
12 Academy Yard
13 Hillside
14 Cavern
15 Stone Quarry
16 Europa
17 Gated Space
18 Reflect Chapel
19 Reflect Church
M7 Algorithm v2 presets (x70)
The version 2 presets are generally brighter with noticeable modulation in the tail.
Halls
01 Large Hall
02 Large & Stage
03 Medium Hall
04 Med & Stage
05 Small Hall
06 Small & Stage
07 Large Church
08 Small Church
09 Jazz Church
10 West Hall
11 Concert A
12 Concert B
13 Live Hall
14 Koncert Piano
Plates
01 Plate A
02 Small Plate
03 Snare Plate
04 Dark Plate
05 Rich Plate A
06 Rich Plate B
07 Thin Plate
08 Vocal Plate A
09 Vocal Plate B
10 Drum Plate
11 Large Plate
12 Fat Plate
13 Alpha Plate
14 Vocal Shimmer
Rooms
01 Music Club
02 Large Room
03 Med Room
04 Small Room
05 Lg Wood Room
06 Sm Wood Room
07 Large Chamber
08 Small Chamber
09 Bright Chamber
10 Tiled Room
11 Fat Chamber
12 Studio 1
13 Studio 2
14 Studio 3
15 Studio 4
16 Guitar Room
17 Marble Room
18 Deep Chamber
19 Dark Chamber
20 Vocal Chamber
21 Wide Room
22 Lush Room
Spaces
01 Open Space
02 Med Space
03 Small Space
04 Vox Ambience
05 Big Bottom
06 Cathedral
07 Grand Stage
08 Lush Church
09 Grand Church
10 Concert Wave
11 Long Vox Space
12 Dark Warm Room
13 Live Room
14 Shimmering Sky
15 Oak Ballroom
16 Ice House
17 Ice Beads
18 Music Forest
19 Waving Bloom
20 Brick Chamber
M7 Miscellaneous presets (x18)
In addition to the traditional v1 and v2 preset banks, 4 non-linear reverb presets are included and 14 interior room presets (intended to be used fully wet, and not included in the hardware delivery).
Notes
The full specification for all presets is available in the presets document linked in the downloads section below.
All samples were recorded by LiquidSonics Ltd. (as such they are unofficial samples generated by LiquidSonics rather than Bricasti).
The samples are copyright Bricasti Design Ltd. and are being distributed exclusively by LiquidSonics Ltd. with permission of Bricasti Design Ltd.
The Seventh Heaven Professional plug-in is copyright LiquidSonics Ltd.