Audio and Video Clips of Seventh Heaven Professional
LiquidSonics' Seventh Heaven Professional is dedicated to the reproduction of the most sought after hardware reverberation tool of a generation – the Bricasti M7. By combining the realism of Fusion-IR with an extensive multi-sampling of the legendary hardware reverb, Seventh Heaven Professional truly redefines contemporary producers' expectations of any native software reverb plug-in.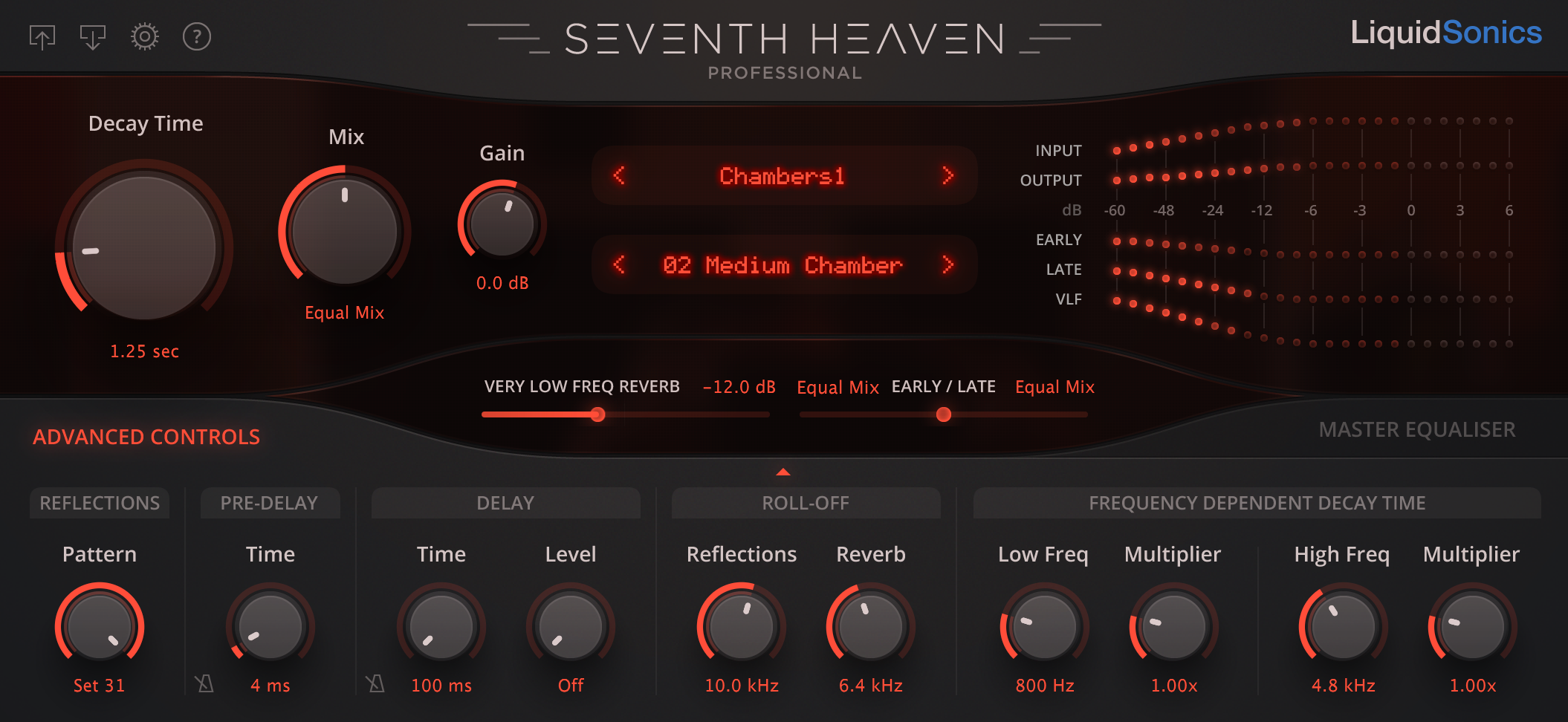 Audio and Video Demonstrations
Check out the incredible sounds of Seventh Heaven Professional in the audio clips below, and see for yourself how the advanced DSP enables previously impossible tasks with high quality sampled reverbs. A free two week demonstration of the full version of Seventh Heaven Professional is available to iLok users so you can try it all out for yourself.
To begin a demo please install the software after downloading from the tabs above. When you have installed the software use this iLok authorisation code in iLok License Manager: 3307-9385-4184-7002-1696-8247-6967-91
Various audio demonstrations of the power of Seventh Heaven Professional are available below on a range of material. Reverb has been applied more generously than in a typical mix. All audio is at 24-bit 96 kHz.
Halls 1: Boston Hall A (drums with variable decay)
Default preset (mix)
(Decay time 2.1 sec)
Default preset (wet)
(Decay time 2.1 sec)
Extended preset (wet)
(Decay time 5.3 sec)
Shortened preset (wet)
(Decay time 1.3 sec)
Spaces 2: Shimmering Sky
Ethnic (dry)
(For reference)
Ethnic (wet)
(Decay time 8.4 sec)
Piano and cello (dry)
(For reference)
Piano and cello (wet)
(Decay time 8.4 sec)
Vocals
Plates 2: Vocal Shimmer
(Default preset, 1.8 sec)
Plates 2: Thin Plate
(Default preset, 1.4 sec)
Rooms 1: Large Tiled
(Default preset, 1.2 sec)
Mozart in a selection of similar halls
Halls 2: Concert A
(Default preset, 2.0 sec)
Halls 1: Vienna Hall
(Default preset, 2.3 sec)
Halls 1: Large Hall
(Default preset, 2.2 sec)
Chambers 1: Sunset Chamber
Mozart violins (dry)
(For reference)
Mozart violins (mix)
(Default preset, 2.15 sec)
Mozart violins (mix)
(Modified preset, 5.0 sec, high-freq decay 3.6 kHz x0.4)
Electric guitar with ambience
Ambience 1: Large Ambience
(Default preset, 0.8 sec)
Ambience 1: Large and Bright
(Default preset, 0.95 sec)
Ambience 1: Long Ambience
(Default preset, 1.15 sec)
The videos here illustrate some basic concepts and results when using key features of Seventh Heaven Professional.
Early Reflection Selection
A reverb's early reflections shape the initial sound of the room. Typically in a convolution reverb these are set in the preset and cannot be changed, considerably reducing the opportunities to modify the space. The M7 provides 32 early reflection preset patterns, all of them can be used within any preset.
Roll-off
Two roll-off filters control the early and late reverb's frequency content. Whilst such values can usually be reduced quite easily, only in Seventh Heaven Professional is it possible to significantly brighten the sound of a sampled M7 reverb. A relatively dark preset (Halls 1: Saint Gerold) is used to illustrate how additional frequency content can be added to any reverb maintaining the true tone of the M7's filters.
Frequency-dependent decay time
Typically rooms will decay in the high and low frequencies at different rates depending on their content and structure. A unique multi-band decay time simulation algorithm in Seventh Heaven Professional provides the ability to very naturally control the reverb in this manner similar to traditional algorithmic reverbs.
Freedom of decay time selection
Traditional convolution reverbs are only able to shrink or minimally expand the decay time of a reverb, such limitations simply to not exist within Seventh Heaven Professional. In this video a default preset with the shortest time the M7 supports (one fifth of a second) is shown at a variety of decay times up to thirty seconds.
Tempo synchronised delay and pre-delay
A reverb's pre-delay is typically used to put space between the reverb and the dry sound to increase the perceived distance. A diffuse delay can be used to provide extra body or to simulate back-wall reflections. Such delays benefit from tempo-synchronisation as shown in this video.
You can check out some great video reviews and tutorials below.
Video Review (Pro Tools Expert)
Tutorial (Pro Tools Expert)
Video Review (Doctor Mix)
Video Review (Mixing With Mike)
Video Review (Mix Better Now)