"Cinematic Rooms Pro is an incredible reverb. Its sonorous character is perfect for adding depth and shimmer to any score."
Ramin Djawadi
Game Of Thrones, Westworld, The Eternals
"Anyone who has ever used a Bricasti M7 knows how magic it is. Seventh Heaven absolutely nailed that magic in plugin form. All your favourite presets are there with the added flexibility of some modern features."
Damien Lewis
Beyoncé, Mariah Carey, Whitney Houston
"I had a chance to use the Seventh Heaven plugin on a demo to see If I could get by with using it for all of the stems on this film. I ended up realising that the preset I had on the hardware was flat out right in line with this plugin and ended up mixing the second half of the film with the Seventh Heaven plugin."
Marc Daniel Nelson
Blade Runner, Wild Horses, Point Break
"LiquidSonics reverbs have superseded whatever I've been using for many years. And when it comes to Atmos mixes they're in a league of their own."
Stephen Lipson
Billie Eilish, James Bond Theme
"Seventh Heaven is on every mix I do. 99% of the time it's my main vocal reverb. By far one of the best reverbs available."
Steve Genewick
Elton John, Michael Buble, Barbara Streisand
"Cinematic Rooms Pro is been a major discovery for me. A must-have when Atmos mixing and cutting. First, it just sounds perfect, musical and real. Second it is so user friendly and with full control of all necessary features. Tonality and balance are outstanding. I can't see myself going back to a different reverb when the Atmos environment is required!"
Martín Hernández
The Revenant, Birdman, Dark Desire
"Seventh Heaven Professional is so smooth! It's got those high end, lush tails that are so hard to find in a reverb plugin. It works on literally everything, highly addictive."
Laconic
Tiesto, Liam Payne, Craig David
"I've used many software and hardware verbs over the years. Nothing has come even remotely close to the realistic reverb spaces of Seventh Heaven. Except for maybe the M7 hardware counterpart. This reverb can sound quite huge without losing the sonic clarity of your original mix."
Steven Richard Davis
Thor, Captain Marvel
"Using Seventh Heaven Pro feels smooth and satisfying, just like using a Bricasti. And it has the advantage that I can use as many instances of it as my CPU can handle. The whole user experience is a world away from loading up the impulse responses in a standard convolution reverb. Controls are smartly laid out and having the advanced controls and EQ easily accessible encourages you to further sculpt your reverb tail to get just the right fit."
Al Riley
Tricky, Soul II Soul, Coldcut, Keleketla
"Whether I'm mixing a lush orchestra or a guitar recorded in someone's basement, this is officially my go-to reverb for everything!"
Eva Reistad
Wonder Woman 1984, Mulan, No Time To Die
"Fusion-IR and the Bricasti samples made Reverberate 2 one of the great bargains. It's been in daily use for me ever since. Reverberate 3 is so much more that I could have hoped for. It's a creative space machine."
Simon Franglen
Avatar, Titanic
"LiquidSonics Cinematic Rooms is best-in-show for blending orchestral samples with live orchestra… nothing does it better. It is nearly effortless to find the right setting for your environment… if not already existing perfectly in a preset, then just a few knob turns in the powerfully elegant interface will get you in the room that you hear in your head. Stunning reverb plug-in."
Rob 'Shrock' Shirakbari
Rumer, Burt Bacharach, Dionne Warwick
"It's the realism that does it for me. I often work in small controlled recording spaces so to have access to these types of rooms, chambers and halls and for them to sound so real and usable with the minimum of tweaking is hugely impressive. An absolute must have for me on every session."
Declan Legge
Jealous of the Birds, Lauren Ann
"Within minutes of trying LiquidSonics Cinematic Rooms, I knew it was an absolute must have. No other reverb plugin....or hardware for that matter... comes close to the depth and range of sounds possible."
Craig Bauer
Kanye West, Ed Sheeran, Rihanna
"Cinematic Rooms offers subtle spaces that blend effortlessly into any mix yet also gives you the ability to make big, splashy, overt heavenly spaces, all in anywhere from stereo to Dolby Atmos. Absolutely loving this verb."
Phil McGowan
Ozark, The Banker
Stereo, Surround And Atmos Reverb Plugins For The Most Demanding Professionals
Our industry leading reverb plugins are used by music and post professionals and can be heard on Grammy-winning albums, Oscar-winning movies, and Emmy-winning TV shows. Our plugins meet the needs of those who insist on best-in-class stereo, surround and Atmos reverb plugins for their work.
Cinematic Rooms is a surround reverb plugin dedicated to the intense acoustic demands of surround room simulation. Deep yet accessible; advanced surround workflow tools allow you to design intricate acoustic spaces of incredible purity with simplicity. Available in two editions, both support channel formats from stereo up to 7.1.6 for use with the latest Atmos bed workflows.
Seventh Heaven Professional is the definitive reverb plugin reproduction of the most sought after hardware reverberation tool of a generation, the Bricasti M7. Illusion goes beyond the abilities of traditional algorithmic reverbs with Fusion-IR | Synthesis and a suite of highly advanced reverberation technologies that are impossible to implement with any other system.
Seventh Heaven is the smaller version of the pro plugin, it has exactly the same professional sound but at a price that makes it more affordable for those mixing on a tight budget. Perfect for rapid workflows and lower budgets, Seventh Heaven is the perfect distillation of Seventh Heaven Professional.
Made without acoustic compromise and a focus on simplicity, it is the most affordable and easy to use simulation of the Bricasti M7 available.
Lustrous Plates is a reverb plugin that recreates the beautiful tone of seven classic plate reverbs using the groundbreaking new Temporal Acoustic Spectral Mapping technology. Each of seven models was designed following extensive measurements taken from real plates, so all have a distinctive and very realistic reverberant tone to them.
Reverberate 3 is a plugin for the impulse responses aficionados. If you have captures of legendary studio hardware or even the overlooked gems, Reverberate 3 is for you. Reverberate 3 takes the impulse captures of iconic hardware reverbs and makes them sound better than ever before.
Illusion is a reverb plugin that offers simulations of natural environments including beautiful halls, chambers and rooms to classic nonlinear and plate reverbs, Illusion synthesises an incredibly diverse range of spaces that blend seamlessly with drums, guitars, synthesisers, vocal performances and orchestral ensembles.
The Best M7 Simulation Ever
Made Possible With Fusion-IR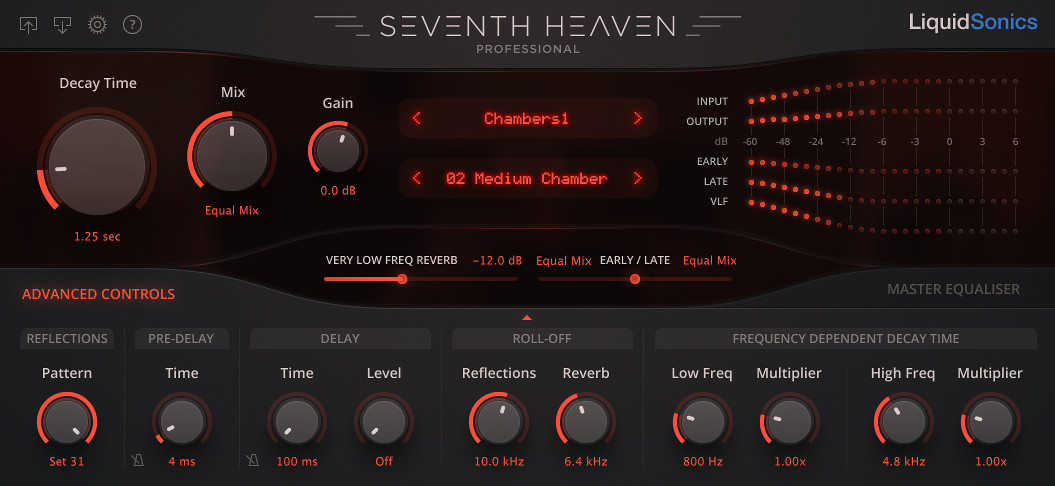 Lustrous Plates recreates the beautiful tone of seven classic plate reverbs using the groundbreaking new Temporal Acoustic Spectral Mapping technology.
For the most demanding score mixing and post-production workflows, Cinematic Rooms is the ultimate Atmos room simulator for spaces you can believe in. Supports stereo up to 7.1.6
"A very impressive recreation of the Bricasti M7 hardware reverb in software, Seventh Heaven Professional goes way beyond what's possible with conventional convolution technology whilst remaining very easy to use."

Sound On Sound

Sam Inglis
"Cinematic Rooms sounds gorgeous. It's rich, lush and dense from the outset but, as should be clear from our tour of the parameters, its true genius lies in just how controllable each stage of the space-designing process is. LiquidSonics' new plug-in perhaps represents a new standard in media-friendly reverb design."

MusicTech

Jono Buchanan
"Between its smart feature set and excellent sound, Lustrous Plates has what it takes to be a significant player in the plate reverb plug-in market."

Mix Magazine

Mike Levine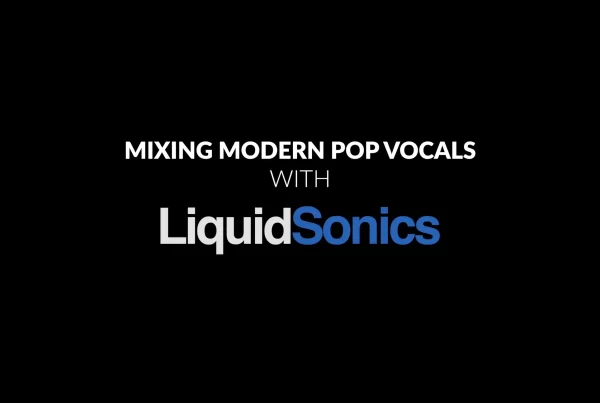 In this video tutorial producer Julian David shows how to use LiquidSonics reverbs to mix…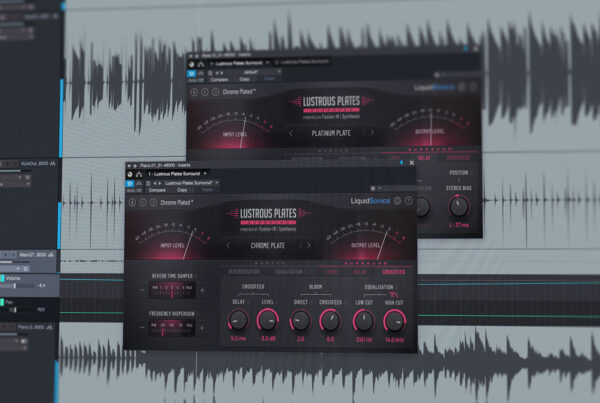 Historically enhancements made to stereo reverb to improve workflows in surround can offer benefits when…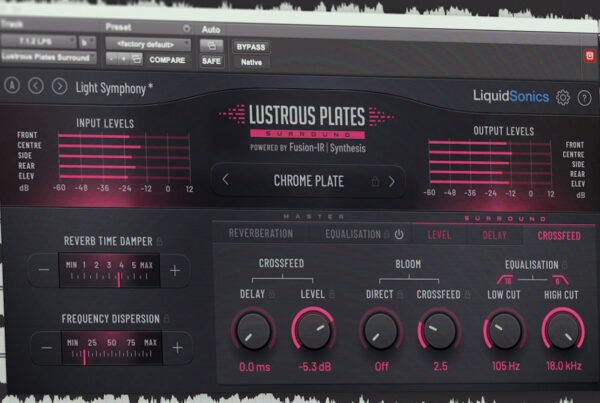 Plate reverbs are an essential tool for music production, but until now those working in…